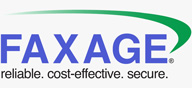 Who they are:
The value leader for internet fax service

Advertising on Google & Bing since 2011
What they needed:
Strategic goals based on addressing business needs
What we did:
Executed a new bidding strategy based on meeting business goals

Implemented a different budget strategy, focused on business goals

Redeveloped new website development and design to improve conversion rates
What we accomplished:
Conversions increased 380%

CPA decreased 40%

Conversion rate increased 100%

Traffic increased 140%
The Faxage story
FAXAGE is a leader in the internet faxing space, having been in business for 15 years. FAXAGE primarily serves small and medium business markets by offering Internet fax services designed for multiple users with multiple fax numbers on a single account. They knew faxing inside & out, but needed help with the more technical aspects of ad campaigns & budget allocation. Fortunately, we were here to help.
Finding a happy medium…
Many advertisers have challenges with setting proper budget & bidding strategies. While Google has a lot of tools that can be used, it is vital to know which ones are important for you and how to use them effectively.
When we met FAXAGE, they had campaigns running auto-bidding, thinking that using Google's algorithms would take care of everything. But when diving under the hood, there was a lot of wasted ad spend.
The Strategy
We worked with FAXAGE to determine exactly how much should be spent on each service category, and the appropriate bidding strategies for their advertising goals. With new campaigns, budgets, and bids, we quickly saw a leap in traffic and conversion rates.
FAXAGE was also experiencing some onsite conversion rate issues early on. They had mobile responsive issues which were never fixed after a redesign to become more mobile friendly. Conversion Giant guided the new design and fixes to resolve the usability problem they were facing.
The Results
Traffic shot up and conversion rates doubled. That led to a whole lot more conversions! A marriage between sound strategy with ads and onsite conversion made this possible.
CPAs dropped 40% because we were only spending money on the services that made money. So we had more money to put back into the campaigns. It created a snowball effect, and in the end we saw conversions 380% higher and traffic up 140%.