Letter from Conversion Giant Owner – Peter Dulay
---
Dear Valued Clients of Conversion Giant,
We do hope you are staying safe and adapting well to your new way of life. While these recent days may seem chaotic and at best inconvenient, we are quickly moving toward what we refer to as "our new normal." We're confident that once we get there, everything will seem much less crazy and more… well… normal. 
We have made it our main focus this week to make sure, despite any challenge or hardship our clients face, that we are prepared and working on ways to help them get past it.
We take seriously the safety and health of our team and their families. As of Monday, March 16th, the Conversion Giant team is officially working remotely.
We initially planned to be at this status next week, but the team decided that we should get in place quicker and ready for when you need us most. We're set up as we would be at our offices with every tool and resource at our disposal. Here are some images of our home offices.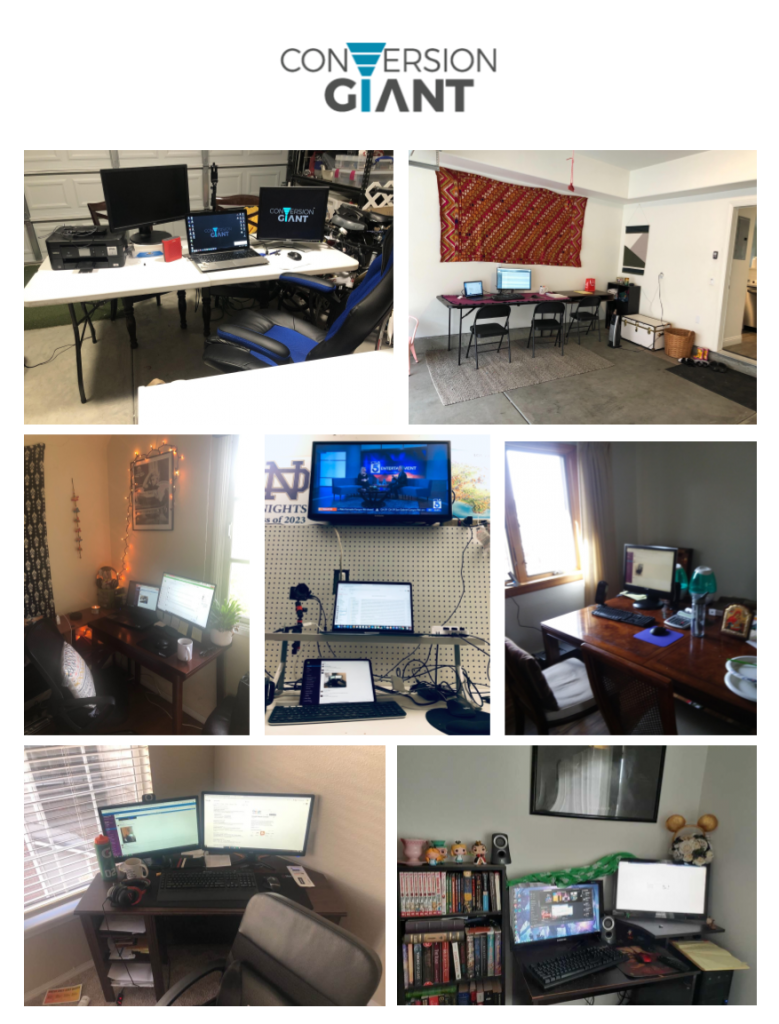 In addition to working from home, we are offering employees extended paid sick days should they become sick (for any reason.) We are also keeping all healthy employees working in full capacity at this time.
Conversion Giant has been committed to helping advertisers through interesting times since we founded in 2008, during the Great Recession. While the coronavirus reality presents an unprecedented challenge for us all, I'm proud of how we have risen to take it on together.
We will most certainly get through this. 🙂
Conversion Giant serves both ecommerce and service based clients in many industries. We are seeing various patterns and fluctuations, presumably due to the coronavirus. While certain industries are seeing an uptick in traffic and revenue, others are being hit hard, specifically those in the travel and hospitality related industries.
Here is how we can help…
If you are concerned about how other businesses are doing in a similar industry genre as yours, we can help provide you with information and insights which could make decision making easier for you in your business.

Be sure you take advantage of opportunities (i.e. in mobile traffic increases) and avoid risks occurring in the online space currently. We can help plan and execute strategies that will conform to your changing KPI targets and profitability requirements. Be sure to communicate these with your account manager.

During this time when less meeting and event planning is taking place, it's a good idea to focus on website (SEO or CRO) related initiatives. Conversion Giant would like to go over these items with you in the upcoming weeks if you have capacity to work on such things.

Let our creativity reign. If you have website or blog content you'd like written, please be sure to let your account manager know. We have a good infrastructure of writers and can get quality work done, possibly at no extra cost.
As a client, your confidence in our ability to support you is very important to us. We understand that you might be uncertain of the future. Please know that we will do everything in our power to set you up for stability and success so that you can navigate and persevere in these unfamiliar times.
Stay safe and yes, wash your hands!

Peter Dulay – Owner
Conversion Giant
About Peter Dulay
Advertisers choose Conversion Giant because we know that conversions, revenue, and profit come from more than just your marketing. It comes from thinking "BIG" about your business.