Expert Conversion Strategy w/90 Day Action Plan – $1950 one-time!
Conversion GIANT strategies prioritize actions that lead to more conversions, more conversion profit, and more lifetime customer value.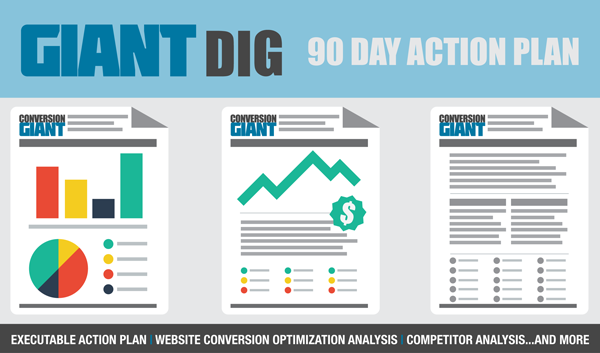 Introducing GIANT DIG + 90 Day Action Plan which is a one time strategy service that you or your team can execute on at your own convenience, keeping you in full control of your account!
What Is Included with the GIANT DIG?
Executable Action Plan Delivered in 10 Days
Step by Step Expert Strategies Designed To Be Completed in 90 Days
Covers Your Existing Google Adwords, Bing Ads, and Facebook Ads
Deep Dive Analysis Onsite for Conversion Optimization w/ Writeup
Competitor Analysis Write Up
Complete SEO Onsite Instructions for Search Engine Optimized Web pages
Additional Status Writeups for Amazon and Mobile Friendly Suggestions
Unlimited Email Support for 90 Days
This is a limited time offer designed to give you a competitive edge on your digital marketing program. Conversion Giant has spent nearly 10 years helping eCommerce and lead gen companies drive growth and revenue.
If you are interested in learning more about the GIANT DIG or if you need help executing digital strategies, please contact us using the form on the right or call (888) 816-0726.
About Peter Dulay
Advertisers choose Conversion Giant because we know that conversions, revenue, and profit come from more than just your marketing. It comes from thinking "BIG" about your business.