Anyone who's ever worked for an SEO agency has had at least one experience of trying to convince a client or potential client that a successful SEO campaign takes time.
"But I want results NOW," the CEO of Strawman Industries will say. "I don't want to wait 4 to 6 months! My buddy started doing SEO on HIS site just a few weeks ago and he's already seeing more traffic!"
That last part is hard to argue with, because it's probably true. The truth is, it IS possible to see results from an SEO campaign that quickly ("possible" being the key word), especially when it comes to ecommerce sites. Since they have so many category and product pages, they tend to have many more opportunities to rank highly and grab potential customers attention, whether they've decided on a particular product or are still just shopping around.
Because of this. there are plenty of instances where a site is just one or two steps away from putting themselves in the best position to start ranking highly, and taking those steps can offer a quick boost.
However, it's very important to note that there are no magical SEO hacks that are going to propel you straight to the top; there are only steps that can be taken to improve your chances. Every website, business, and industry is different, and what works for one isn't necessarily going to work as well or as quickly for another. At the end of the day, a solid long-term SEO campaign is always the better bet.
Still, if you're deadset on trying to give your site a quick lift, here's where to start:
Set Up Webmaster Tools & Submit Your Sitemap
Google Search Console (part of Google Webmaster Tools) is one of the most important resources for any successful SEO campaign, and it's amazing how many business owners are underutilizing it.
We'll get into some of the search metrics and features another time, because we have something much more important to go over now. And if you haven't done this, stop reading this article and go do it right now (or after you know what it is).
Sitemaps. Having one and submitting it to Google is 100% mission critical if you want to rank highly on Google. Search engines use your sitemap to get a better idea of how your site is set up, and that allows them to make better decisions when deciding how to crawl your site. This is especially important for ecommerce sites, which typically have many more pages than a standard lead-gen site.
And the only way to submit one is to use Google Search Console.
Fortunately, the process is very simple. First you'll need to generate your sitemap, and more often than not you'll need the XML format. This can be done with one of the many free resources available, and your web hosting service may offer this feature as well.
Next you'll need to submit it to Google, which is where Google Search Console comes in. If you haven't set up your account yet, now's the time. Sign in to your Google account, head over to Search Console, enter your URL, and click on "Add A Property."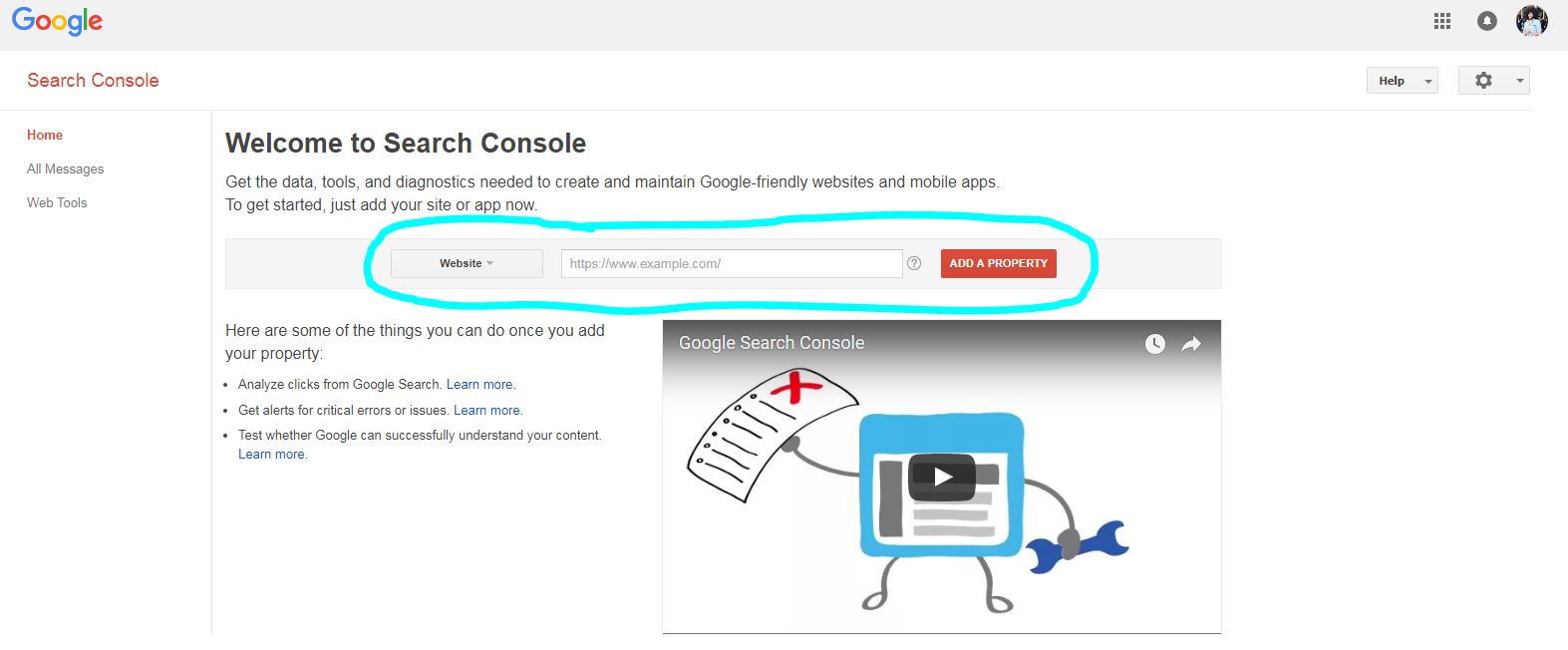 Next you'll need to verify that you're the site owner, which you can do a few different ways.
And NOW you can add your sitemap! Head over to the dashboard and click on the "Crawl" option, where you'll find "Sitemaps."  Then just click Add/Test Sitemap and complete the upload.
Search Console will alert you to any errors or issues with your sitemap, so use that to your advantage. Pay particular attention to your number of indexed pages, especially relative to your submitted pages. It will take Google a few days to index everything, so be sure to check back frequently.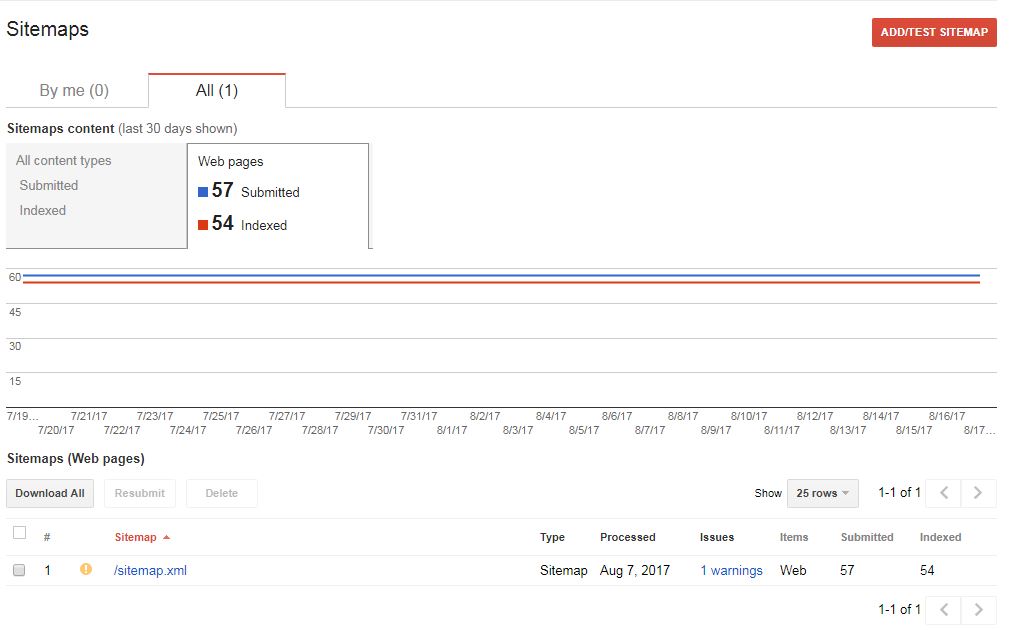 Improve Site Load Times
Load times are an issue that often goes overlooked. After all, you don't really notice it unless your site is SUPER slow. And you don't always check it in Google Analytics because, let's face it, it's not the sexiest metric. It doesn't rev your engine like Sessions, Bounce Rate, or the sexiest of them all, Transactions.
So if you've never checked on your load times, you should. Surveys have shown that about half of web users will abandon a web page if it doesn't load within three seconds, and almost 80% won't come back to a website if they had trouble with it in the past.
Solutions for improving load times range from major overhauls to quick fixes. Since we're talking short-term improvement, we won't go into things that involve major site renovations, such as migrating/updating your servers or overhauling your CSS. However, if you are looking more long-term, both of these are very much worth doing and can provide excellent results.
Short term, there are some quick fixes that can make a sizable difference.
Category pages are often some of your strongest landing pages, and displaying dozens of products on each one can really slow down loading speeds. Consider employing some pagination and breaking categories up into multiple pages. Most shopping carts have a setting that allows you to choose how many products will be displayed on each page.
SEO PRO TIP: Just be sure to use the rel="next" and rel="prev" tags.
Another fairly simple option is to enable HTTP caching, which allows your site to reduce load times on return visits by storing certain elements (static files like images, CSS, JavaScript etc)  on the user's hard drive. That way, when they return, they won't have to download everything all over again. There are a few different ways that this can be done.
And finally, do a site audit and trim the fat. Condense or remove large items, and make sure key on-page content is above the fold. Most importantly, be sure you don't have any redundant or unnecessary redirects.
Build Some Links
Link building is a key part of every long term SEO campaign, but that doesn't mean you can't grab a couple quick ones to get a little boost right now.  
There was a time when this wasn't possible, back before Penguin was a part of the core algorithm. But now it updates in real time with every re-crawl and re-index, meaning changes from links can take effect in a matter of days instead of months.  
One obvious way to build links for any ecommerce company is to be listed on your vendor's website as an official seller or distributor of their products. Often times they won't have such a page on their site, but that's when you call them up and offer to do a "guest post" for them.
Supplying them with a product relevant article is sure to be valuable in their eyes. It can also become apparent to the reader that it was written by a company that actually sells that product; yours.  
Another easy way to snag quick links is to see if there are any easy links that you can snag from your competitors. Moz.com's "Link Intersect" tool in Open Site Explorer is a great tool for seeing what links your competitor has. Find some of your main competitors and see if they're on any industry directories or resource lists that you could quickly be added to. Just check that it includes a dofollow link!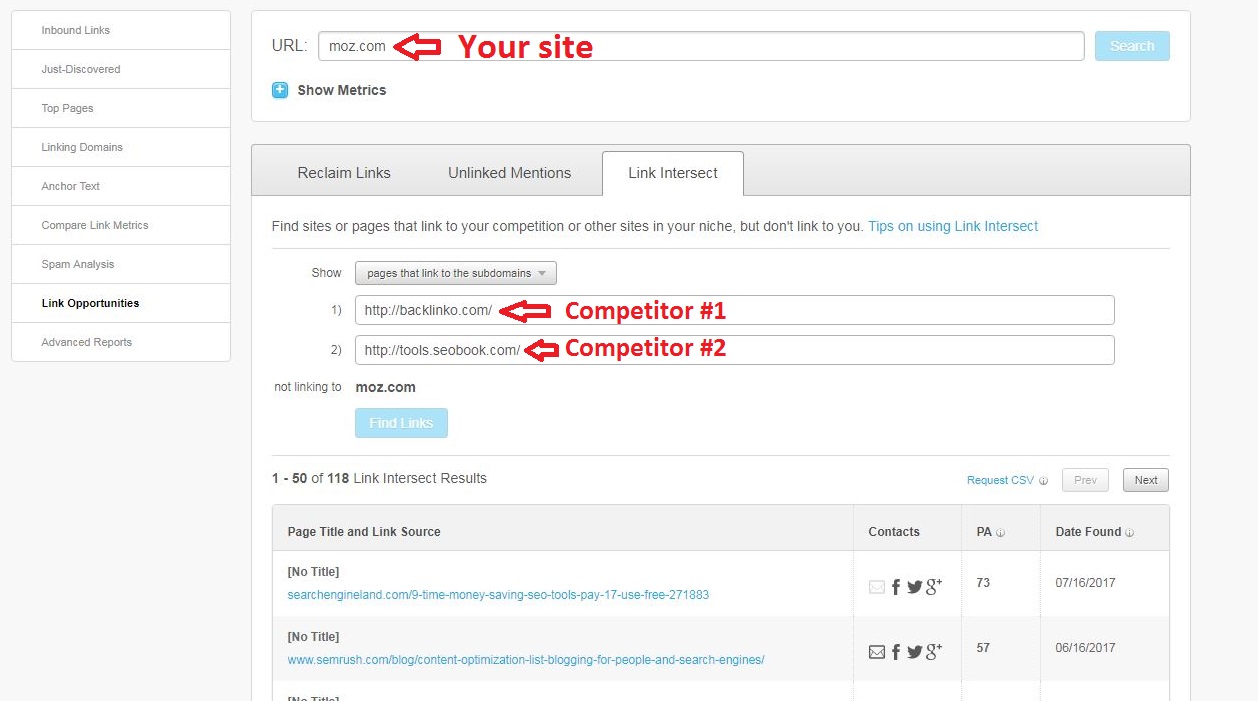 Quick side-note: don't discredit a link just because it's nofollow. While they don't pass on authority the way dofollow links do, Google still sees some value in them. Plus, if you don't have any nofollow links, Google might see your portfolio as unnatural and penalize you.
If you want to build some more quick links, see if there are any sites in your industry that you could guest post on. Just be sure to ask what the turnaround time would be as far as scheduling. Look for sites that are willing to post within a few days.
Simplify The Title Tags On Key Pages
Not too long ago, the best way to optimize page titles was to figure out how you could cram as many relevant keywords into them as possible. Nowadays, Google prefers sites that put usability over optimization, especially for eCommerce websites where there are a lot more components than most other sites.
Having said that, there are elements of the page title that have not changed. The maximum pixel length that will be displayed on Google search results is about 600 pixels, which works out to about 50-60 characters.
Also, it's important to remember that your title tag (ideally) serves as the de facto heading for the ad copy that is your organic ad listing. The title that you're writing needs to very clearly identify what users can expect to find when they click on your listing.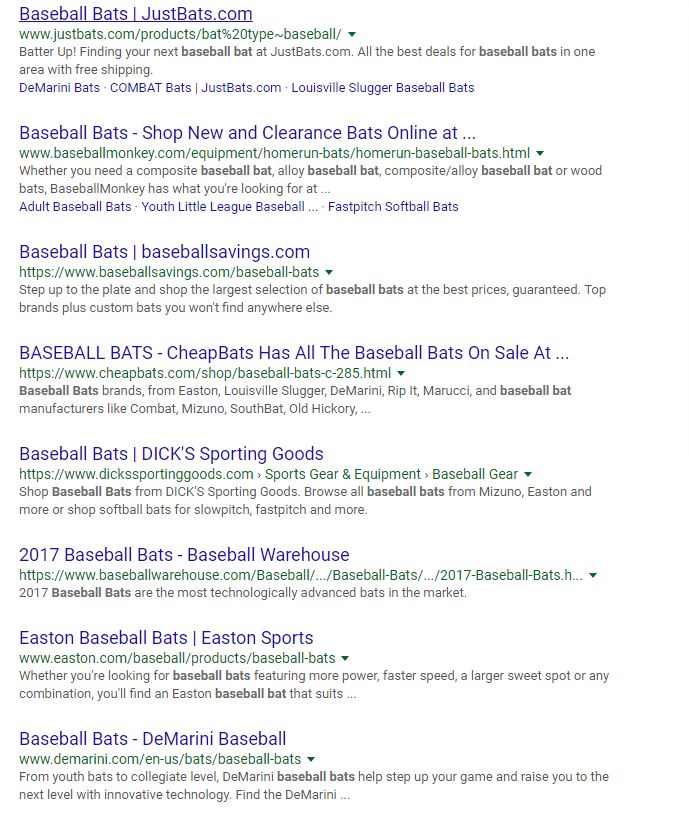 With that in mind, simpler is almost always better. Instead of finding all the keywords you want a page to rank for and sticking them all into your page title, pick the main one and work the rest into your other onside elements.
For example:
If you have a title that is:
"Shoes In Men's Sizes  |  Men's Shoes  |  Shoes For Men  |  Shoes.com,"
simplify it to just "Men's Shoes in All Sizes  |  Shoes.com." Google's algorithm has gotten much better at figuring out when pages deserve to rank for keywords they're not explicitly optimized for.
Another Example:
We always see eCommerce companies stuffing category titles in the homepage because the homepage optimizations usually carry the most weight with Google ranking. For instance, a company that sells sports products might load up their homepage title like this:
"Youth Sporting Equipment  |  Baseball Equipment  |  Football Equipment  |  Youth Sports  |  Company.com"
That one is too long anyway. Keep it under 65 characters; tops.
However, the site has specific categories just for "baseball" and "football" so there is no need to dilute your homepage title tag relevancy. Go with only what the site does as a whole, in this case it's sporting equipment. This will not only improve your chances for ranking, but it could also improve your click through rate:
"The #1 Sporting Good Store Online in Youth Sports |  Company.com"
DISCLAIMER: Before you do any title tag changes, look to see if you are ranking for any of your keywords first. If you already rank in the top 5 for the keywords you want to show up for, then you maybe should exercise some hesitation in changing the title. If you are planning on keeping the "part of the title" that represents the keywords you rank for, then you could perhaps get rid of the other keywords if there is more ranking to be had. #1 is number one. There's not much upside to changing the title if you are already ranked #1.
Your content, H1s, link anchor text, etc. are very important too. This is where you'll have the opportunity to include for a few other keyword variations (ideally within the same keyword theme), so be sure to consider each action very carefully.
Schema Markups
Put simply, schema markups are pieces of code that can be applied to a web page to allow Google to more accurately crawl the page and gain a greater understanding of the information located on the page. This then reflects how the site is displayed on results pages, offering more eye catching elements that really help the listing stand out.
Generally, markups can be used for a number of different things as they have applications for products, articles, directory listings, reviews, and much more. For our purposes, however, we'll solely on ecommerce elements.  
The "Product" tag helps Google understand that the page it's looking at contains products, and allows it to display more helpful information to searchers. You can expand on this by adding prices, reviews, availability and more.

Rich snippets are implemented by adding HTML markups to pages on your site, and you can then manage those markups with the structured data tool on Google Search Console.
As far as how this helps your rankings, there's a bit of debate as to whether having Schema markups directly improve rankings. We feel they do, particularly after this year's algorithmic changes. Regardless, the increased click through rates can definitely help over time, leading to a more indirect improvement in ranking and a direct improvement in revenue.
Add Content To Category Pages
The phrase "Content is king" has been associated with SEO for a very long time, but it's never been as true as it is now.  Content has always been a critical part of SEO, but with Google now putting customer usability on a much higher pedestal, useful and informative content can produce even greater results.
Take a look at your top landing pages. Chances are, quite a few of them are category pages. Is there anything more that you could say about those categories that customers could find useful?
For example, if you sell parts for gaming computers, your graphics card category page could include a comparison of which graphics cards are best for which needs. It doesn't even have to just be a paragraph; consider adding a chart or and interactive comparison tool (just make sure all of the content on it is crawlable).
This can have the added benefit of allowing you to manipulate your keyword density. Chances are that if a page exists to lists many products, the name of that product appears over and over again on the page.
Adding more content to the page will help lower the ratio of keywords to page content (also known as keyword density), which can help improve your rankings. Google doesn't want to reward keyword stuffing, so pages with lower keyword density (and yet lots of words) can sometimes be given preferential treatment.
Keep in mind that there isn't a universal ideal keyword density, so you may need to experiment a little bit. Consider 2-3% which is what we safely use.
If none of these tactics give you the short-term boost you're looking for, then maybe it's time to start considering a real, focused, long-term SEO campaign. And if/when that day comes, don't be afraid to seek help from the experts.