Google has just announced that they will be re-branding their AdWords platform on July 24, changing it to Google Ads instead and incorporating some new functionalities to boot. Google credits this change to the evolution of advertising in the last 18 years since AdWords was introduced. As mobile usage, online shopping, and multi-channel marketing efforts have increased, so has the need for a revamped Google AdWords platform.
Google AdWords isn't the only platform seeing a reboot, however. Their DoubleClick advertiser services will be unifying with the Google Analytics 360 Suite to create the new, more comprehensive Google Marketing Platform. This will maximize the integration between ads and analytics technologies, allowing marketers to develop better insight into achieving their ad goals.
AdWords and DoubleClick are the primary platforms getting a makeover here, but this announcement delves deeper than that. Google Ad Manager is another new addition to the team, combining the functionalities of DoubleClick for Publishers and the DoubleClick Ad Exchange.
So, what are the implications of this triumphant trio consisting of Google Ads, Google Marketing Platform, and Google Ad Manager? Primarily, a better-defined grouping of Google's various offerings and easier-to-understand services.
Google Ads Aren't Just Words
Google's head of ads and commerce, Sridhar Ramaswamy, stated that Google AdWords caused people to associate the service with search only. This is a result of the connotation "words" has with "search". Over the last decade, we've seen that AdWords ad formats span YouTube, Gmail, and Maps also.
The rebranding was partially in attempts to remove the misleading nature of the AdWords name, particularly for advertisers new to the Google advertising world. This isn't the only reason for the change, though.
The simplicity of the new name aims to reflect the simplicity of the new platform too. Although not described in detail, Google is introducing a new campaign type that will make it easier for small businesses without a lot of time on their hands to run ad campaigns. It will allow users to create ads in a matter of minutes by simply uploading photos and text to create a quick and easy ad design that they will ensure reach the right (and most relevant) audience. Many of these elements are still in the process of rolling out, and will be added by the end of the year.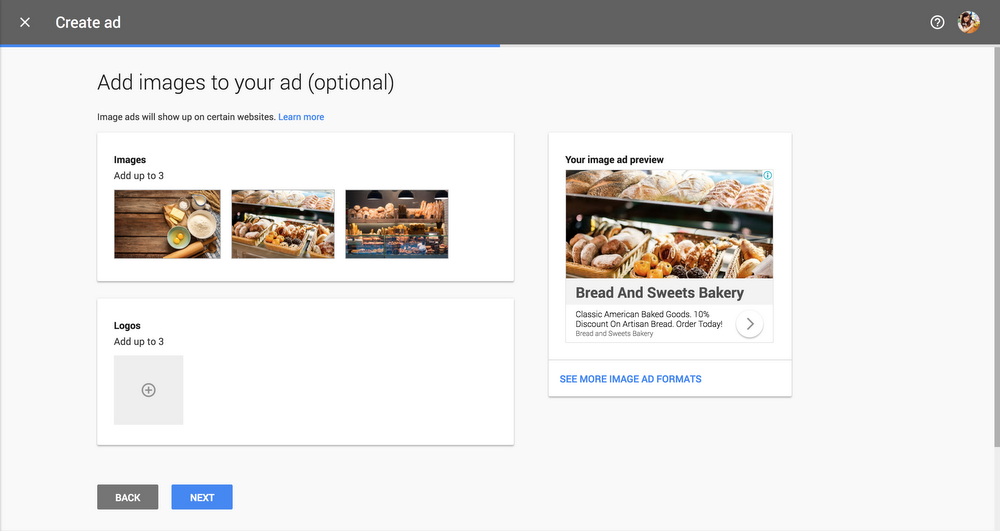 Image Source: Google Ads
Google Marketing: The Best of Both Worlds
The increasing number of advertisers that were integrating the DoubleClick and Analytics 360 platforms on their own is what inspired this synergy for Google. Now, advertisers can more accurately review the responses to their DoubleClick campaigns to assess what is generating results and what is not.
Furthermore, Google will be launching a new feature called Display & Video 360. This will combine the functionalities of DoubleClick Bid Manager, Campaign Manager, Studio, and Audience Center for better management of display advertising. It is designed to work with Youtube also, in hopes of making video advertising easier and more accessible than ever.
By combining these efforts with the advanced insights of Google Analytics, advertisers can measure the efficacy of their campaigns and better optimize their display advertising methods. The Google Marketing Platform will be released later this month.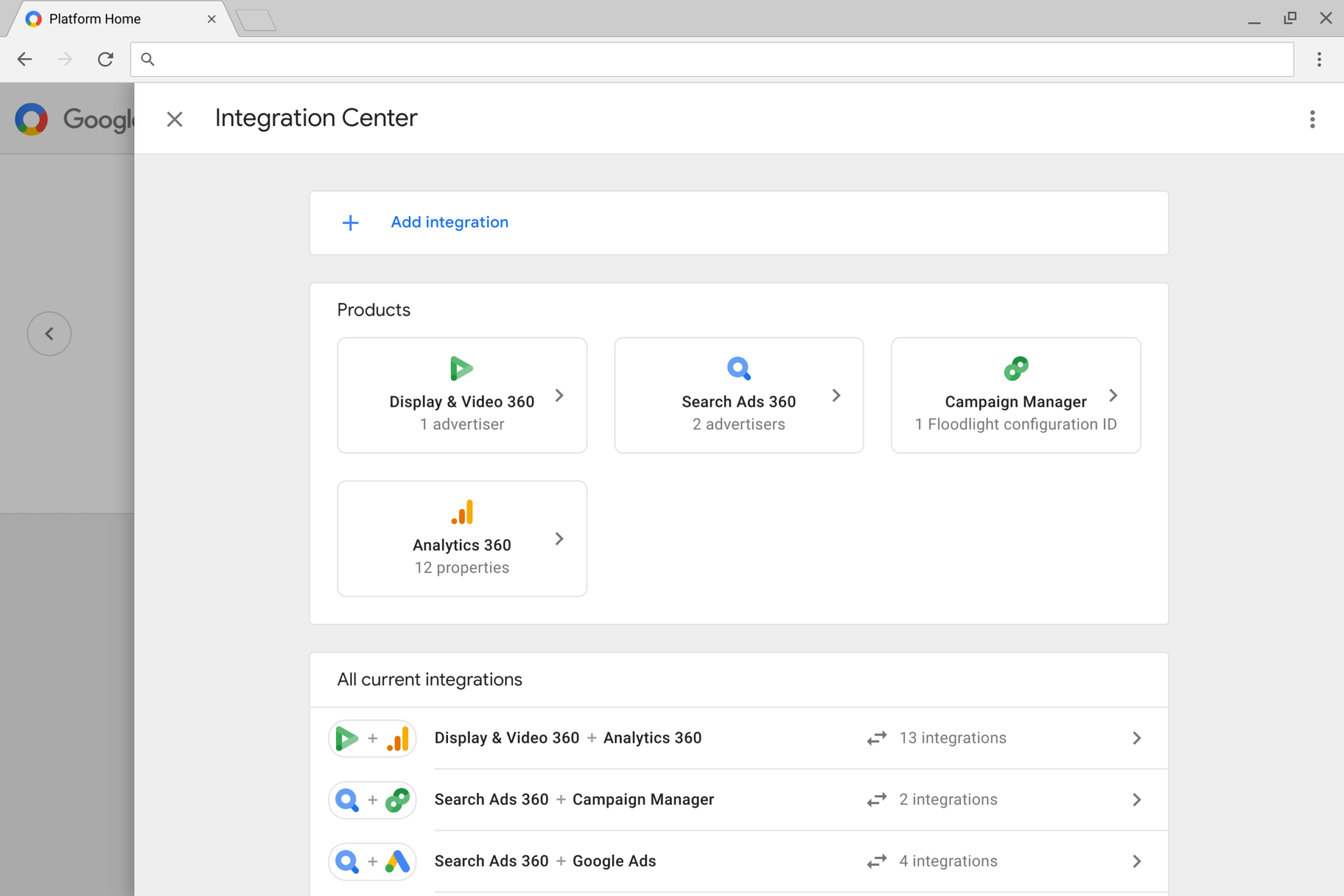 Image Source: Google Marketing Platform
Google Ad Manager: All Ads in One Place
The combination of DoubleClick for Publishers and DoubleClick Ad Exchange is primarily in an attempt to create a "programmatic" platform. This means that more advanced automation techniques will be implemented to optimize bidding and ad placement. The main goal of Google Ad Manager, however, is to help publishers/advertisers make money in places they hadn't before. This includes live streams, TV, mobile apps, YouTube, and more.
With advertising encompassing more formats than ever, Google hopes their new Ad Manager will give advertisers an opportunity to reach more people, therefore boosting their brand awareness and profits.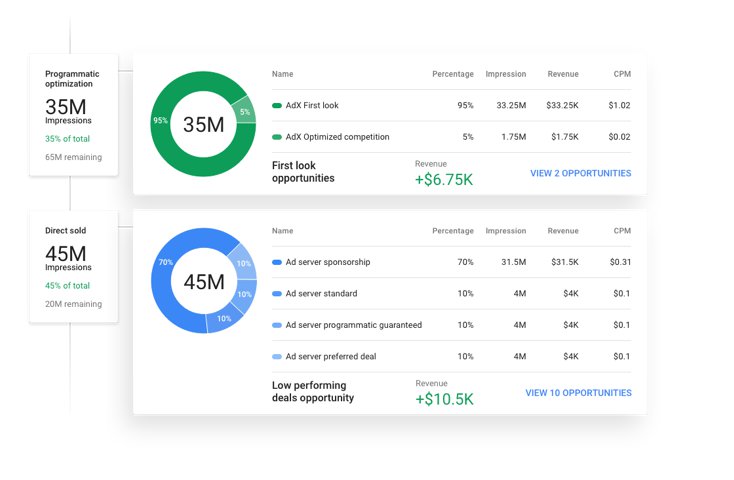 Image Source: Google Ad Manager
Google is also introducing improved security features to protect publishers from inappropriate ads or malware. Users can control the types of ads they want to appear on their site and Google is cracking down on ad content for them as well. They are prohibiting advertisers whose domains don't have the HTTPS protocol, and are also targeting any "annoying creatives" and bot traffic.
The User-Driven End Goal
As an advertiser, you've probably been confused as to which Google platform to use for your marketing needs before. That's why the ultimate objective of these recent changes is for Google to make these tools easier to understand, while simultaneously grouping together similar tools that should be used in conjunction.
This benefits Google too, of course. These changes allow for better automation and distribution to various ad platforms and formats, particularly with the rise of YouTube and mobile search. More money spent on expansive ad campaigns is more money in Google's pocket, but stands to benefit advertisers and business too. Traditional search is no longer the only, or even the best, way to profit.
Over the next month, and likely through the end of the year, we'll see these brands and their various features begin to roll out. From simple logo changes to the introduction of Smart campaigns on Google Ads, there's sure to be an adjustment process. If there's one thing Google's sure of though, it's the fact that new programmatic capabilities will make digital marketing feats much easier for small business that don't have the time or resources to devote to creating in-depth campaigns. This means that, for once, these changes are for the benefit of the little guys.