Intersecting search and social campaigns is perhaps one of the most overlooked strategies for maximizing conversion rate. Up until recently, marketers have been using these as separate but complementary platforms. The fact of the matter is that combining search and social efforts is more effective. This can be done by creating cross-channel campaigns, combining audience data, and developing consistent brand messaging across platforms. A recent study from Marin Software even states that companies that use both search and social paid advertising cohesively have seen their conversions and revenue per click double. Not too shabby, right?
Our increased reliance on social media causes it to play an important role in SEO efforts. This is not as direct as it sounds, and social media presence does not necessarily affect ranking, but it is certainly a cycle. Think of it this way: as a content marketer, it is your job to create relevant and informative content for your website. This content is then shared on social media, where it will gain traction if it is high-quality.
As a result, your brand awareness grows through social media, therefore driving more organic traffic to your website. The more organic traffic you begin to garner, the higher up your website will populate in the search results.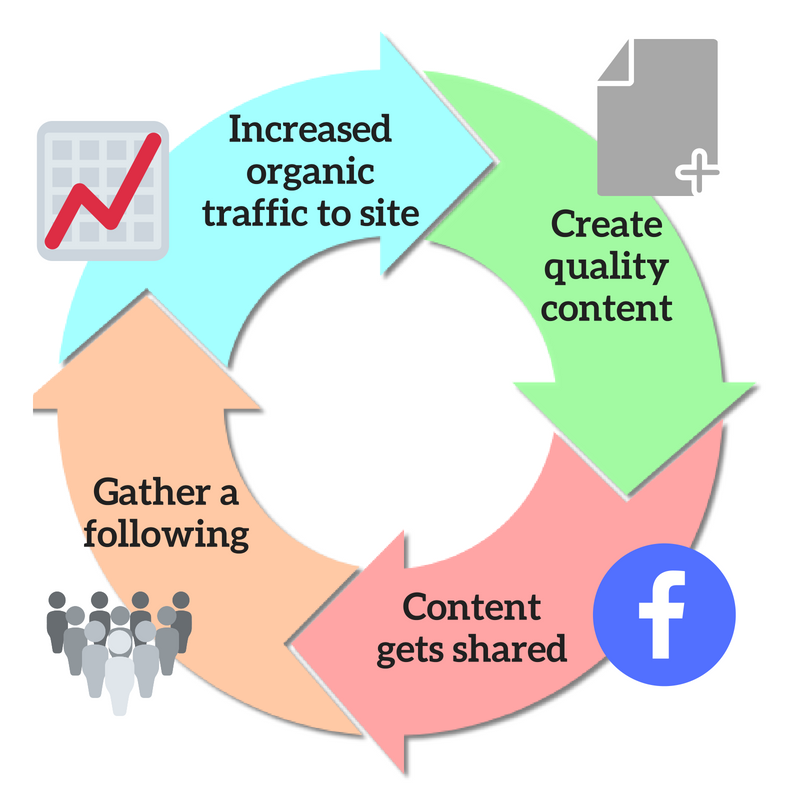 Combining Campaigns Across Search & Social
Convergence of brand messaging across search and social platforms is the first and most basic step in this process. In order to achieve this, your call-to-action in your Facebook and Google ads should be the same. For example, say you are a shoe-seller known for your "buy one, get one free" deal on all shoes. This is the message you will want to convey in all of your ads.
Amazon is an excellent example of this: both in its Google and Facebook ads, Amazon's call-to-action is to sign up for Prime to get free two-day shipping. As a result, customers from all over know that this is a primary selling point, and will be more likely to go to their website (where this selling-point is also highlighted) to learn more.
In addition to your messages, your tone and visuals should be the same between your social profile and landing page as well. What you are developing is a brand narrative – shaped not just by the words you choose, but the colors and feelings your brand evokes. Your profile and header pictures on Facebook, Twitter, etc. should be similar to those on your website.
Using your social media page as research is also a handy trick. You can analyze discussions taking place on your social media accounts by your followers to identify keywords. Then, you can apply these keywords to your paid search campaigns. You're likely to get a good feel of what people associate you with based on how they talk about your brand.
Combining Your Search & Social Audiences
Despite the elaborate data Google Analytics offers, Facebook provides more detailed insights when it comes to demographics. While it does show the basics like location and age range, its usefulness lies in the more personal data. Your Facebook insights allow you to explore relationship statuses, behavior, interests, and education levels of your audience.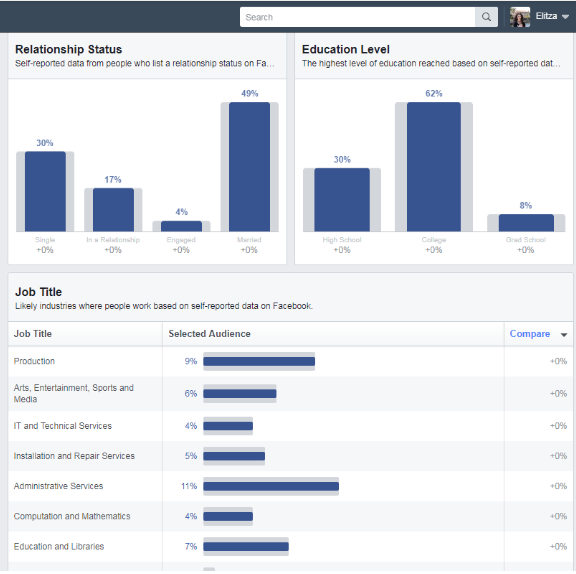 You can use this data from Facebook to better determine who to target with your paid search ads. A recent Kenshoo study reported that paid search audiences that were already exposed to a brand through Facebook advertising generate a 30 percent improvement on ad spend and 7 percent increase in click-through rate (CTR). Once you've determined the kind of audience that is typically on the receiving end of your Facebook ads, or that just makes up your Facebook following in general, you can plug this criteria into your Google AdWords. Simply go to the "Audiences" section on your AdWords account and feel free to customize your target audience based on the interests, location, status, and demographics of your Facebook following.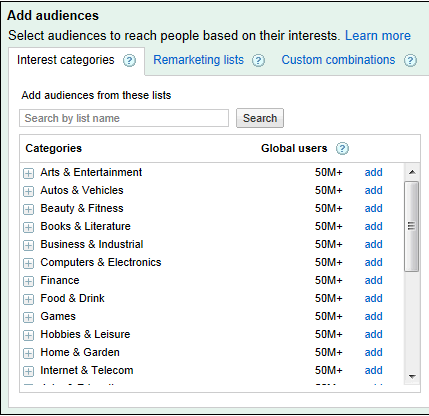 Photo Courtesy: Wordstream
Additionally, you can use the related interests of your Facebook followers to expand your keyword scope. For example, if you're a cosmetic retailer and find that many of your followers also show an interest in health/fitness, you can use this information to target terms like "health and beauty" in your text ads and keyword profile.
To get a more comprehensive view of your target audience and see if this tactic is working, it's recommended you use UTM tags to track traffic from social media and later segment that traffic on Google Analytics. Targeting businesses for B2B marketing will also be easier than ever due to the ability to segment audiences by job titles on Facebook.
What's the upshot?
If you're still trying to figure out the best way to achieve this search and social synergy,  just look at various successful brands, and compare their Google ads, websites, and Facebook ads. You don't even have to look any further than one of the best-known brands on the planet: Coca-Cola. Its brand messaging is the same on all platforms: share with someone, refreshing taste, open happiness. The Facebook header picture on their page and the photos on their site are all similar, and the same theme is embodied in all of their text.
The synergistic interplay of search and social may seem natural, but that's not to say you can set it into motion and then leave it alone. As a savvy digital marketer, you'll know this requires constant vigilance, and that you'll need to monitor how people interact with your brand in order to make this powerhouse plan work.