If you've logged into your Google Analytics within the last few weeks, you've probably noticed a striking yellow notification along the top reminding you to update your Data Retention settings. Initially, you may not have given it much thought, but now you notice that the deadline of May 25 is rolling in and you still have no idea what it's all about.
In essence, this is reminding you to set a retention period for your user-level and event-level data before it is automatically deleted from Google Analytics' servers.
User-level vs. event-level data
In order to avoid defining a complicated concept with even more complicated terminology, allow us to break down these two kinds of data for you:
User-level

: On Google Analytics, you can use the User ID dimension or a custom dimension to track, measure, and map a specific user's behavior. This information is particularly useful for remarketing and segmentation purposes. According to

Google

, it can be used to monitor individual-level classifications such as loyalty rating, last purchase date, and lifetime customer value.


Event-level:

As you can probably glean from its name, event-level data is entirely based on actions. It allows you to monitor what users do and when they do it. For e-commerce businesses, this kind of data can be used to measure the success of a recent promotion based on number of purchases made.
These are the two kinds of data to be impacted by the May 25 retention settings update. Due to their association with cookies, user-identifiers, and advertiser-identifiers, these types of data have been essential to marketers.
Adjusting your settings
Currently, the default data-retention setting on Google Analytics is 26 months, but you can adjust it to 14 months, 38 months, 50 months, or "Do not automatically expire". This last option means that your data will never expire, but you will still need to select it manually before May 25 in order to ensure that. If you do not select any of these options and remain with the default, all user and event data older than 26 months will be deleted from your Analytics.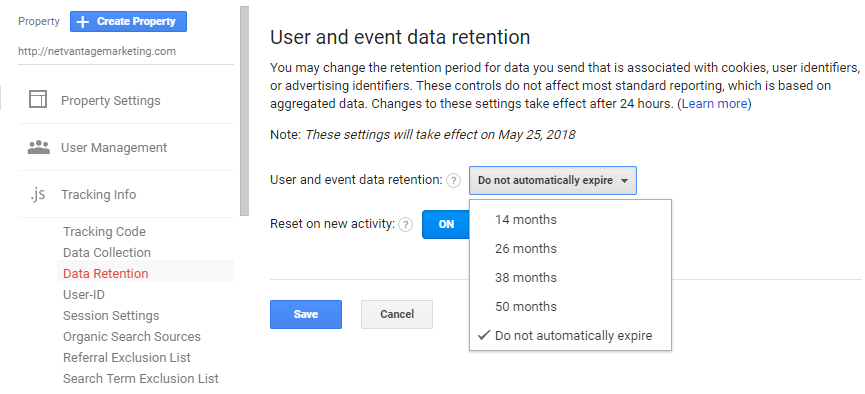 Photo Courtesy: Netvantage Marketing
If you are okay with this, then no action is required on your behalf. However, if you wish to keep data that is older than the 26 months, you'll need to go into the Admin settings on the bottom left-hand corner of your Analytics. Once you are there, select "Tracking Info" and then "Data Retention" from the drop-down. This will allow you to modify your retention period, though you are limited to the aforementioned time spans.
Why the change?
These recent feats by Google are part of its efforts to meet the requirements of the General Data Protection Regulation (GDPR), a law implemented by the European Union (EU) to ensure the privacy of individuals within the EU and the management of exporting their personal data internationally. This regulation becomes enforceable on May 25, the same deadline Google has set for deletion of old data. Therefore, for Analytics users whose client base is outside of the EU, adjusting these retention settings is crucial. Here is a look at the actual email from Google: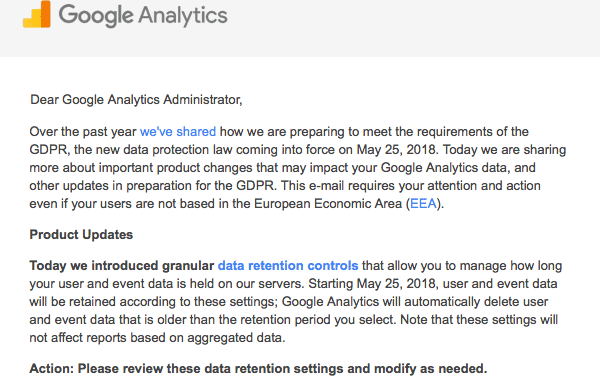 Photo Courtesy: Search Engine Roundtable
While this regulation's aim is to avoid the misuse of personal data by businesses that serve the European Economic Area, it could spell increased scrutiny for digital marketers. This may be the first in a long line of limitations on how marketers use analytics to their benefit. Therefore, the key is to remain up-to-date with these ever-changing Google policies and not to panic. While data retention is an important component of analyzing how user behavior has evolved, it is not always conducive to keep it forever either. Much like Google's policies and functionalities, user behavior is constantly changing.