Welcome to the third and final part of our Facebook Advertising series. In case you missed the first sections, here's a recap of what we've covered:
Part One: Intro to Facebook Advertising with Basic Audience & Ad Types
Part Two: Defining Your Objective and How to Reach It with Facebook Ads
Part Three: How to Get Ridiculously Granular When Segmenting Your Audience on Facebook
Today, we'll be sharing an overview of the different targeting options, how to ensure you're identifying the perfect audience that's not too large and not too small, and best practices for reaching your objectives with the right targeting.
Targeting Options
When creating your ad, you'll be prompted to select your preferred audience. You can choose a custom audience, lookalike audience, create a new audience, or select an audience you've previously saved in your Ads Manager.
Custom Audiences
Custom audiences are groups you can create based on contacts you already have in your database, or from previous engagement with your posts on Facebook. You can use email addresses, phone numbers, Facebook user IDs, or the Facebook SDK to create custom audiences. You can save these audiences to use for different campaigns later on, too.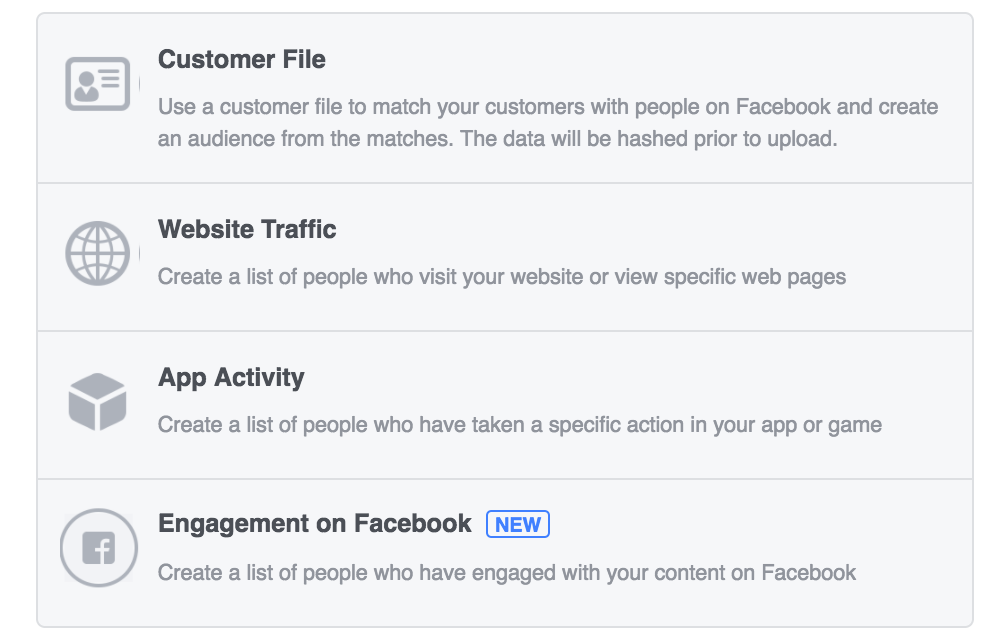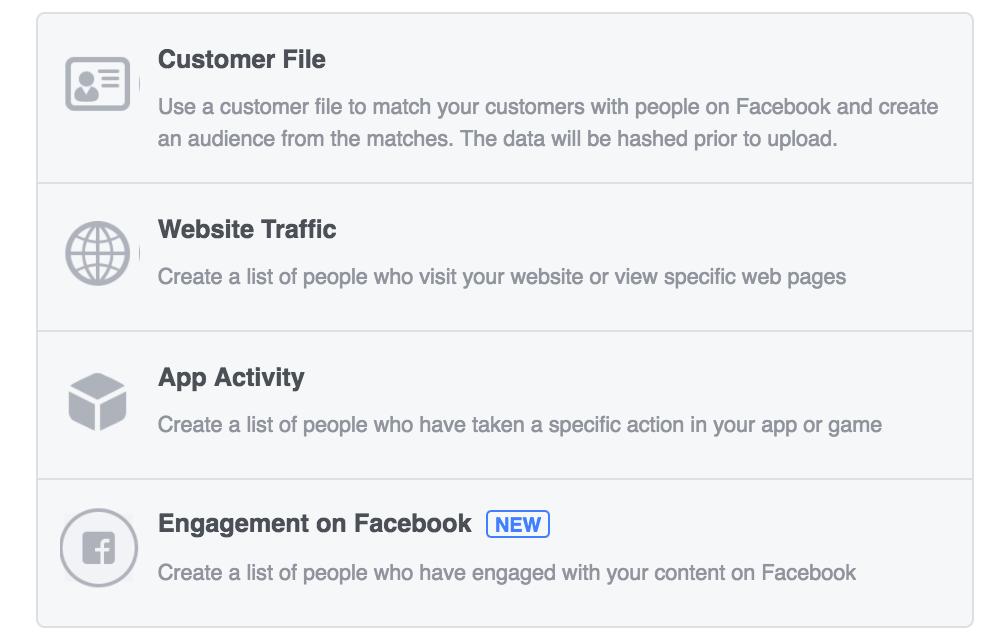 Lookalike Audiences
Within the custom audience capabilities is the lookalike audience. This gives you the opportunity to provide Facebook with a "source" from which they generate a list of individuals who fit similar criteria. Businesses typically use current customers as their source but you can also use your Page fans or followers, or lists based on other criteria. Facebook recommends uploading a source of 1,000 to 50,000 contacts. The lookalike audience function allows you to reach people outside your database and identify commonalities among your target personas. Lookalike audiences can also help you save on ad spend as you're not targeting unqualified people.
Create a New Audience
Based on what Facebook knows about its users, you can choose from a combination of the following attributes:
Location

Age

Gender

Languages

Detailed targeting

Connections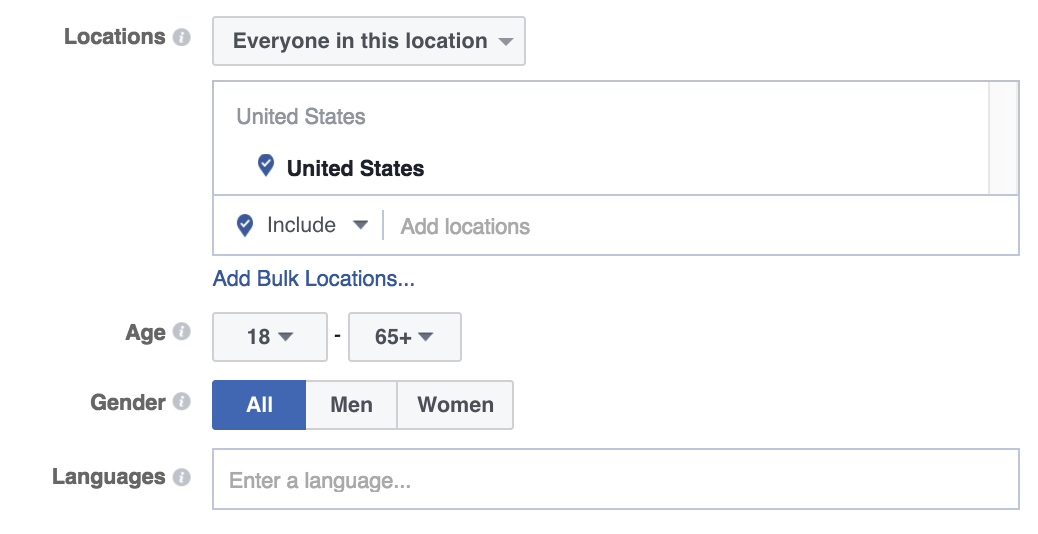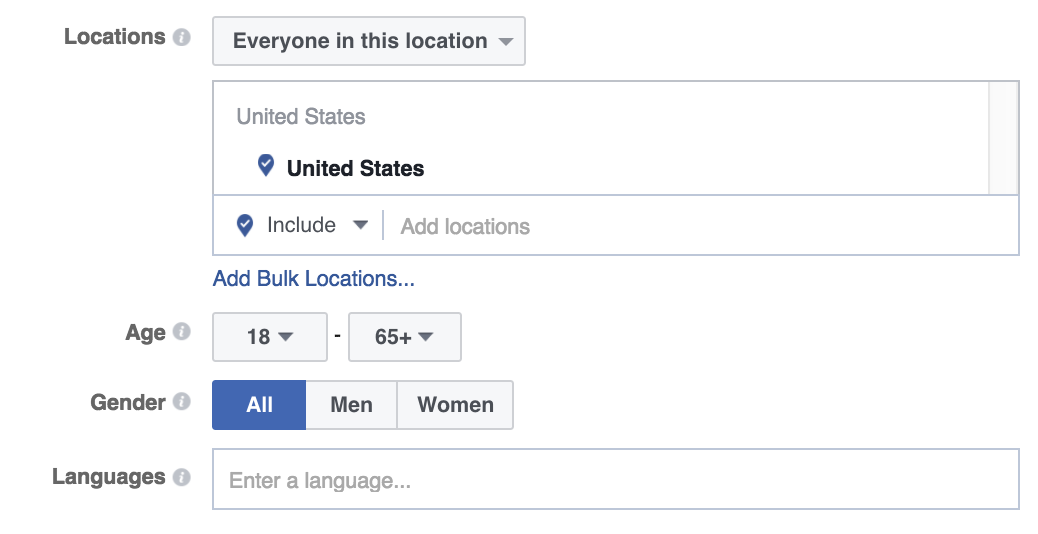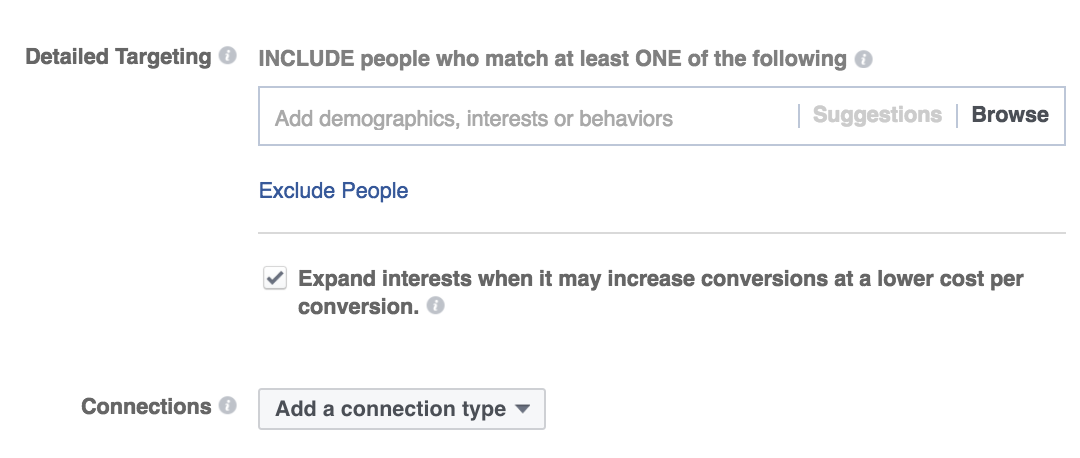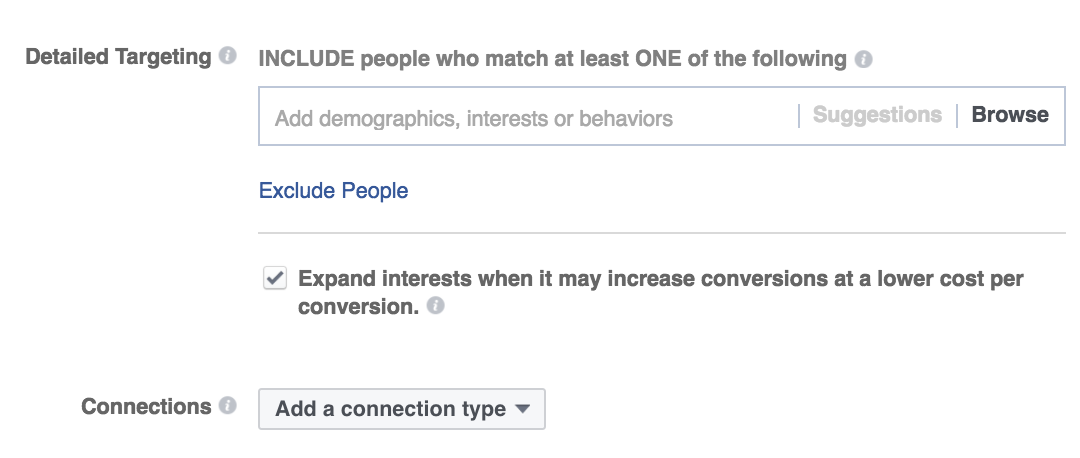 Location
Choose as broadly as country or state/province, or as narrow as region, city, zip code/postal code. You can add multiple locations and you can also choose to exclude specific areas.
Gender
This is where extensive persona research will be very valuable. Your advertising agency should be able to tell you whether your target audience is men, women, or both! This will also largely depend on the objective of your campaign.
Age
Based on the persona research your agency has done and your ad objectives, choose an age range between 13 and 65+.
Language
Facebook is pretty smart. They will automatically choose the language based on the location you've chosen so you can leave this field blank, unless there's a different language you'd like to target.
Detailed Targeting
Demographics
Here's where you can start getting really granular. Within demographics you can choose different combinations of characteristics. Here are a few to name, but there are many more options.
Education:

Which school they go to or attended and what they studied

Generation:

Baby boomers, Gen Xers, Millennials

Home:

Whether they live with roommates or family

Life events:

Their birthday, when they started a new job, whether they have recently moved

Parents:

If they had children and how recently

Politics:

Their political stance

Relationship:

Status and interests

Work:

Excellent for B2B companies. You can choose specific employers, job titles, income, and industries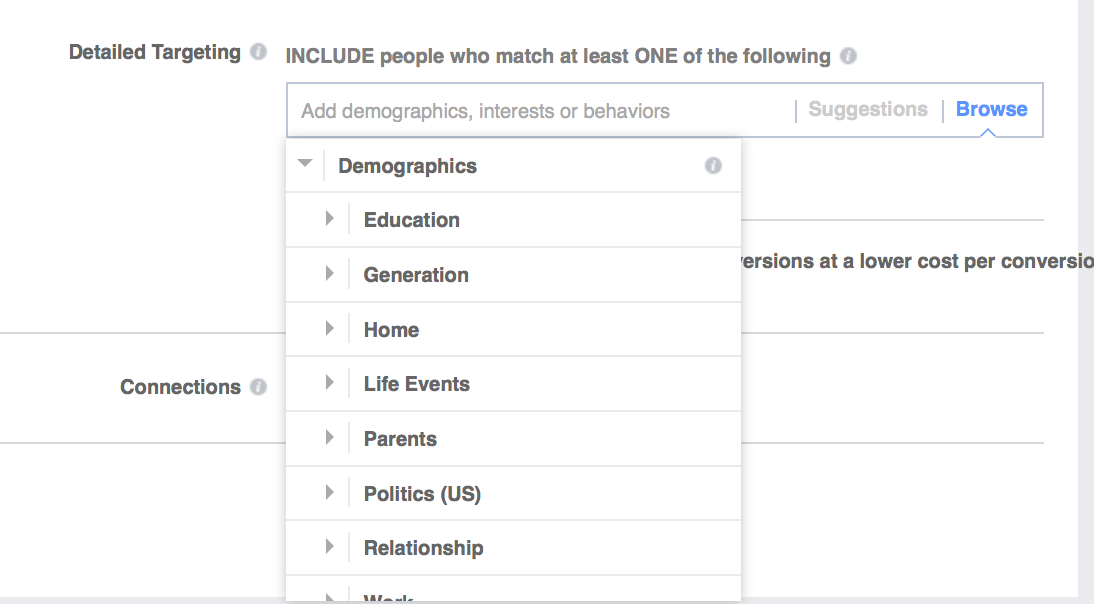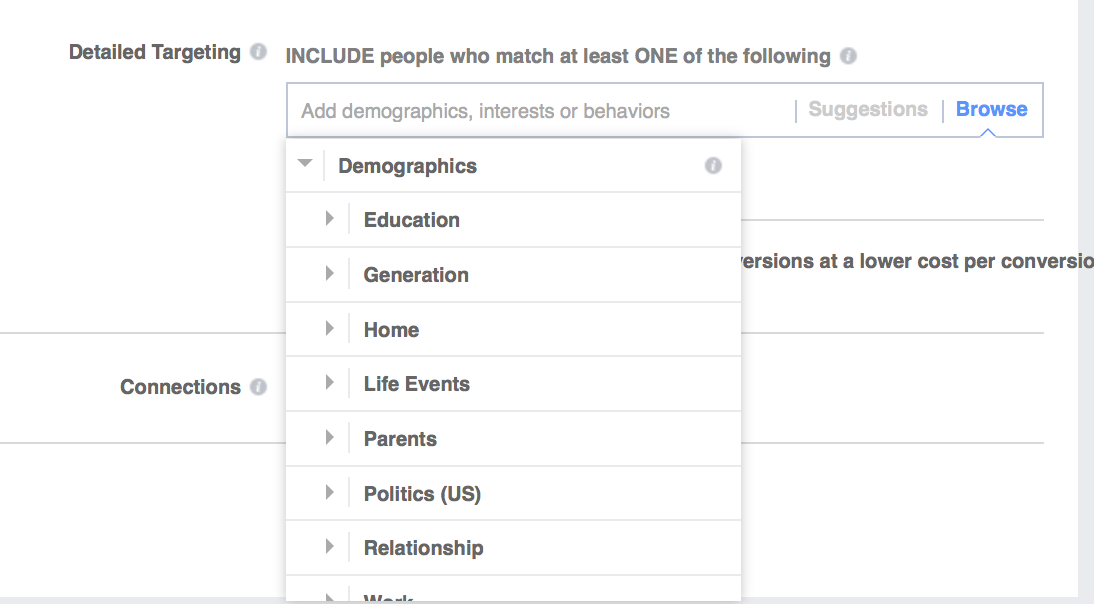 Interests
Prepare to be overwhelmed. The interests category has thousands of different options so it's best to determine which ones you'll target beforehand, rather than browsing for hours. You can select hobbies, specific items, activities, Facebook Pages the individual has liked, and more. Facebook pulls this data from user's timeline updates and even other ads they've clicked.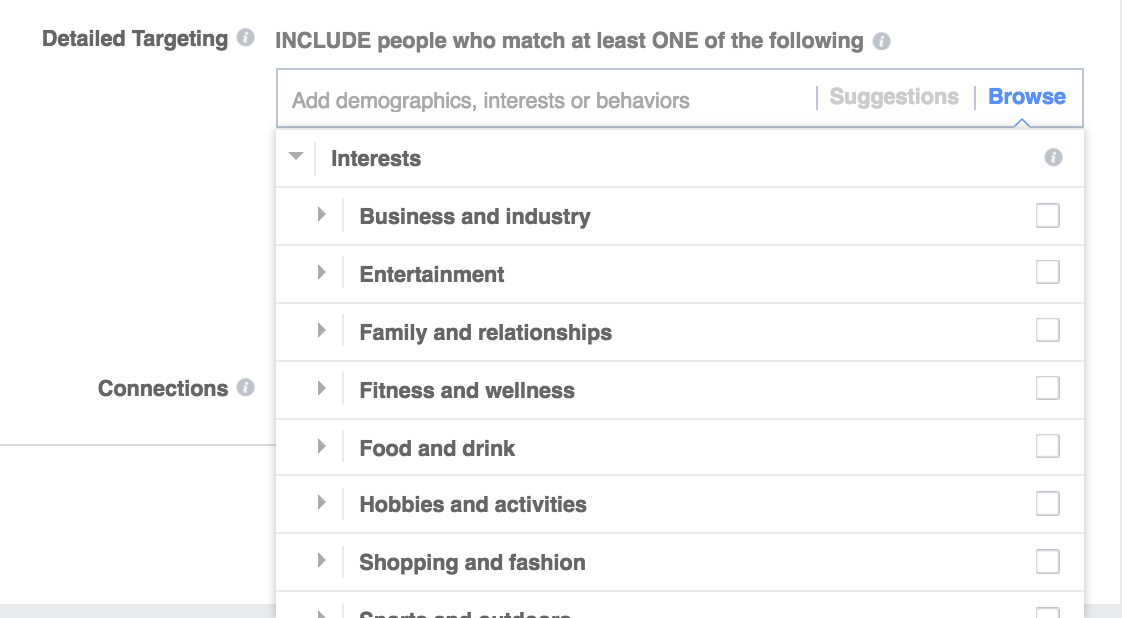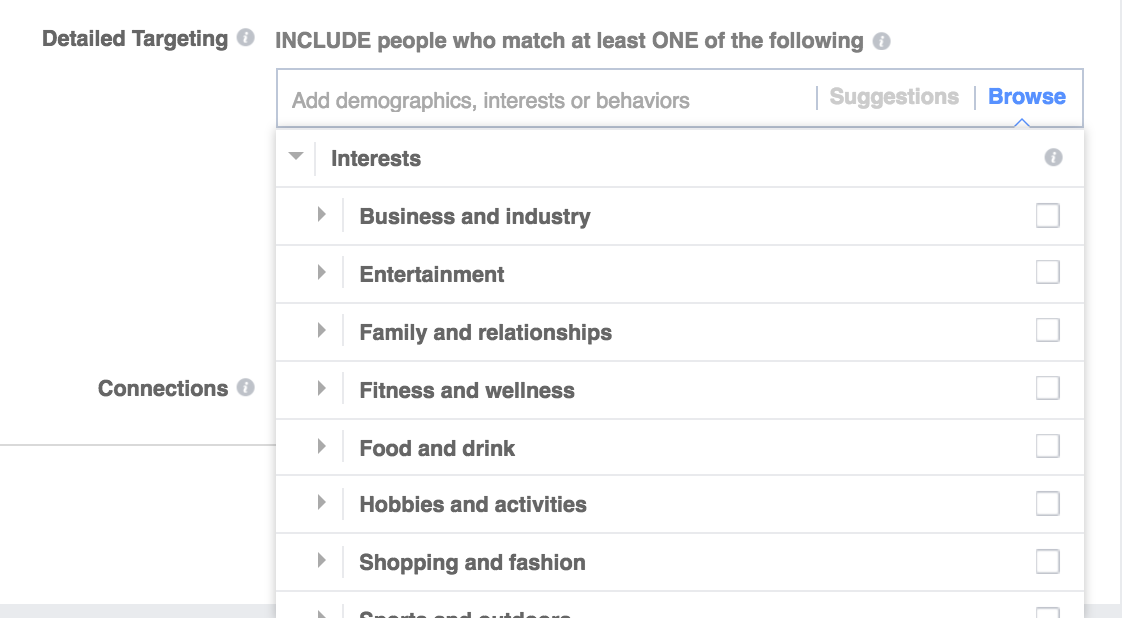 Behaviors
The behaviors category pulls in activities users do on and off Facebook using third-parties, known as Partner Categories. Partner Categories are available to advertisers in the U.S., Brazil, France, Germany, United Kingdom, Australia, and Japan. Some of the Partner Categories that provide data in the U.S. are Acxiom, Epsilon, Experian, and Oracle Data Cloud. These categories help advertisers access purchase history to create a narrowly targeted audience for their ads.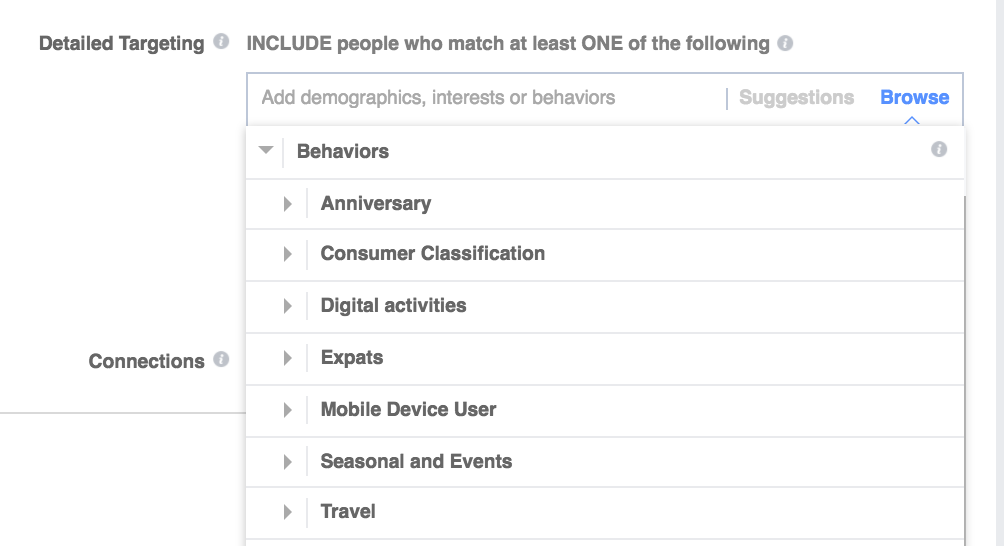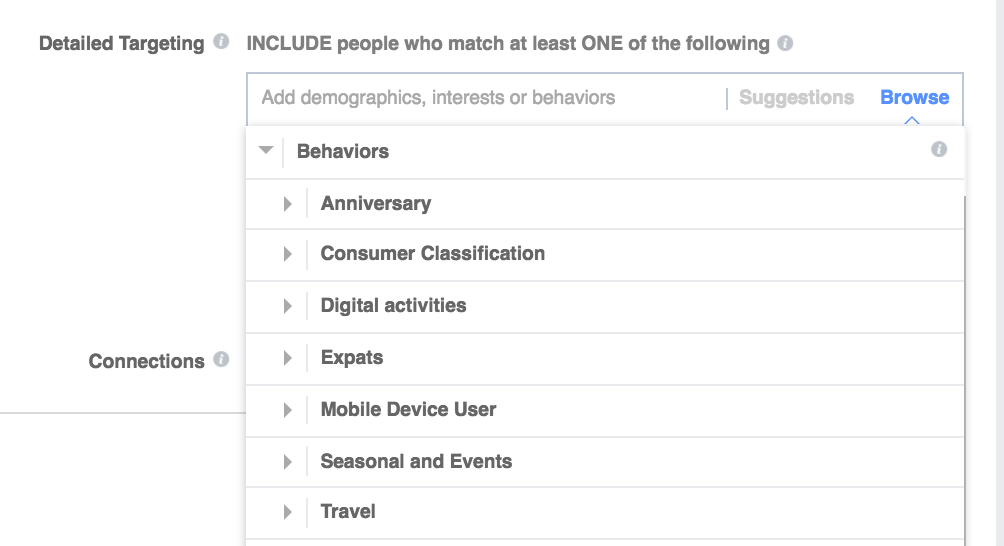 You'll know the data is coming from a Partner Category when you see it as a source.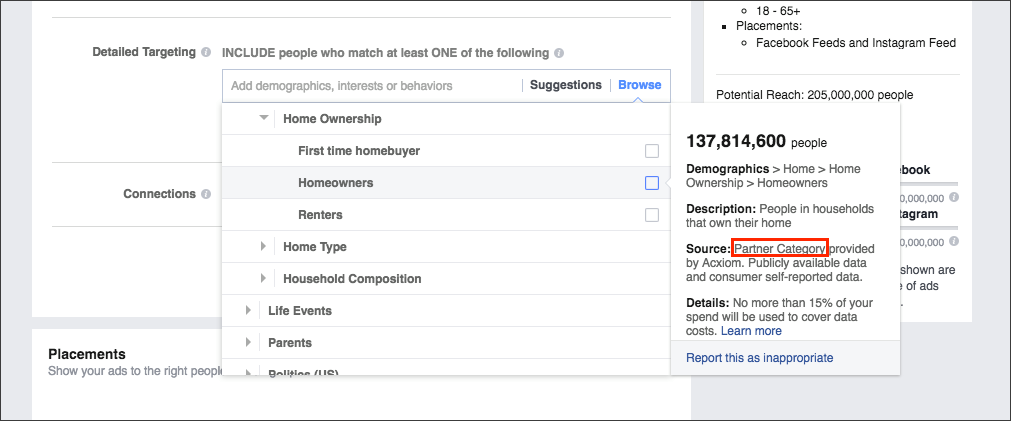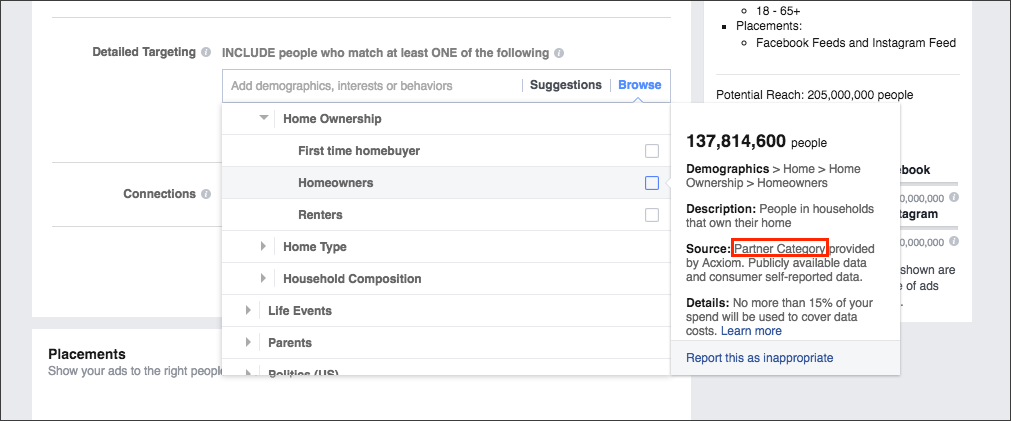 Connection
You can choose to show your ad to individuals who like your Facebook Page, another Facebook Page, are connected to specific individuals, apps, events, or a combination of all of these parameters. You can include or exclude people that fit this criteria.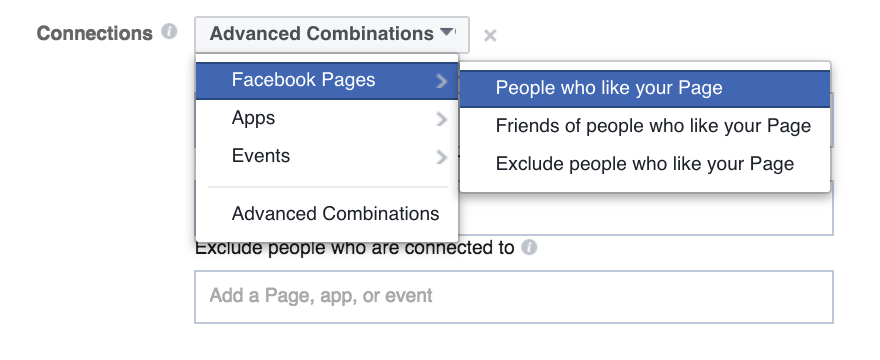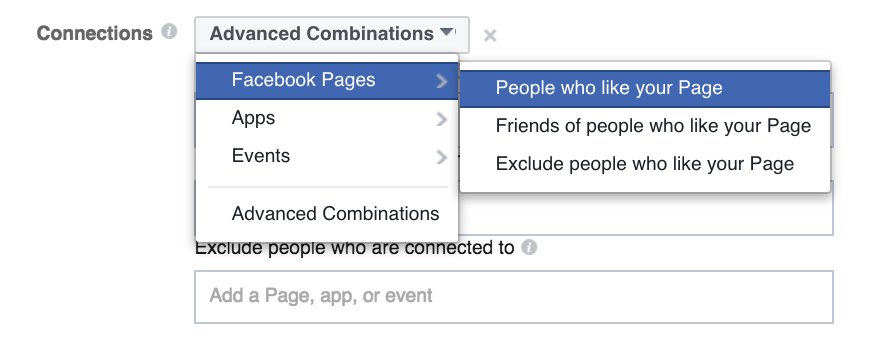 Saving Your Audience
Once you've gone through each of the targeting options, you can choose to save your audience. Just be sure to name it something that identifies the group and the objective of the campaign you'll be targeting this audience to.
The Dangers of Getting Too Granular
So now you have an idea of how exhaustive the options are for segmenting your audience. And while it's excellent that Facebook gives marketers the ability to hone in on their target audience to ensure their ads are 100% relevant, it can actually work against them when used ineffectively. Segmenting too narrowly can reduce your potential reach and thus fewer people will actually see your ads. The reach Facebook shows you is only a potential reach because it's the number of people that could see your ad.
There are other reasons why your potential reach might be too low including your budget, bid, and campaign duration, but let's focus on finding that sweet spot.
How to Find The Perfect Balance in Reach
As you're going through the targeting options, keep a close eye on the Audience Definition in the right column. Saving an audience that's too large is a waste of ad spend on people that probably aren't a fit for your company. See below for an example of a monster-sized reach.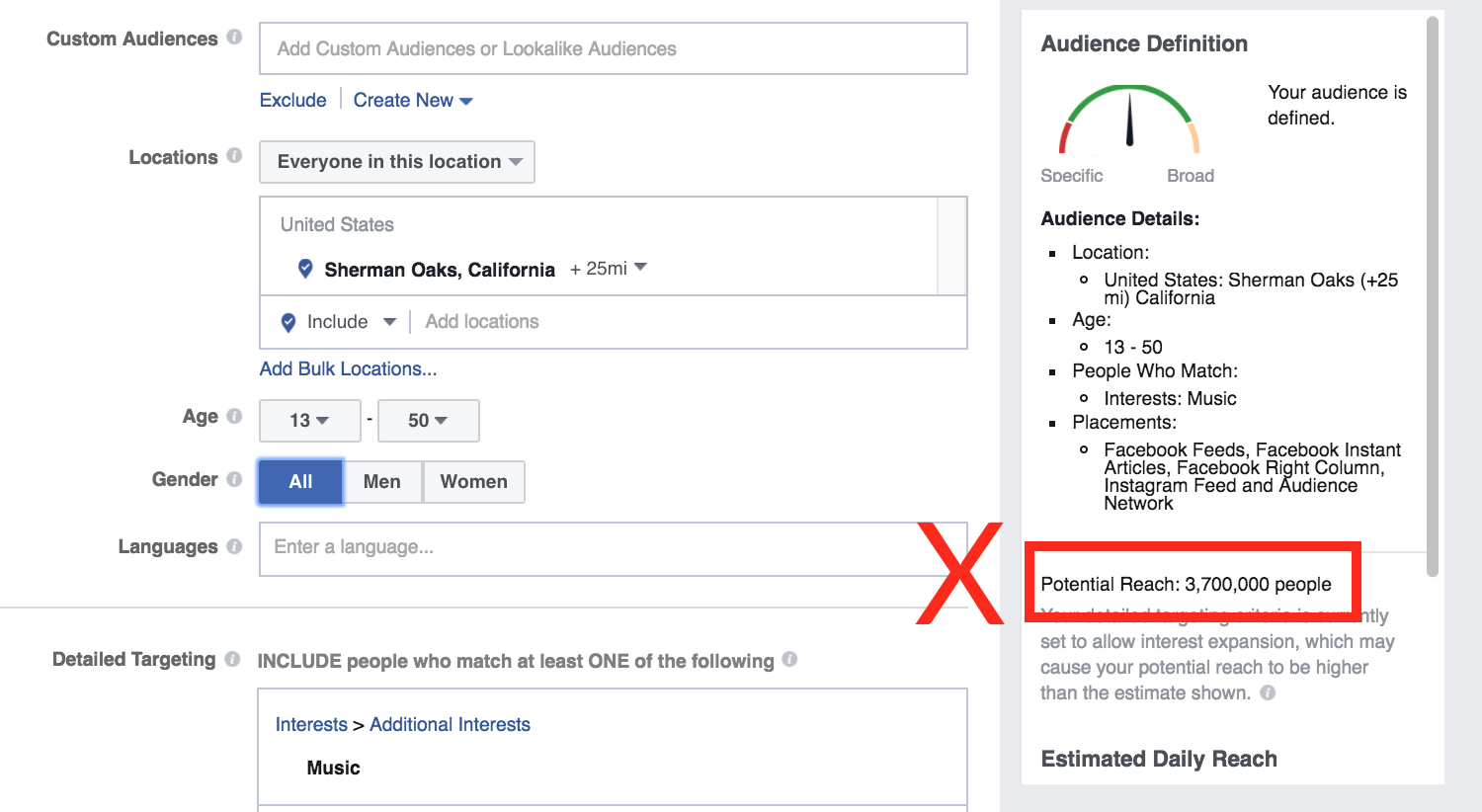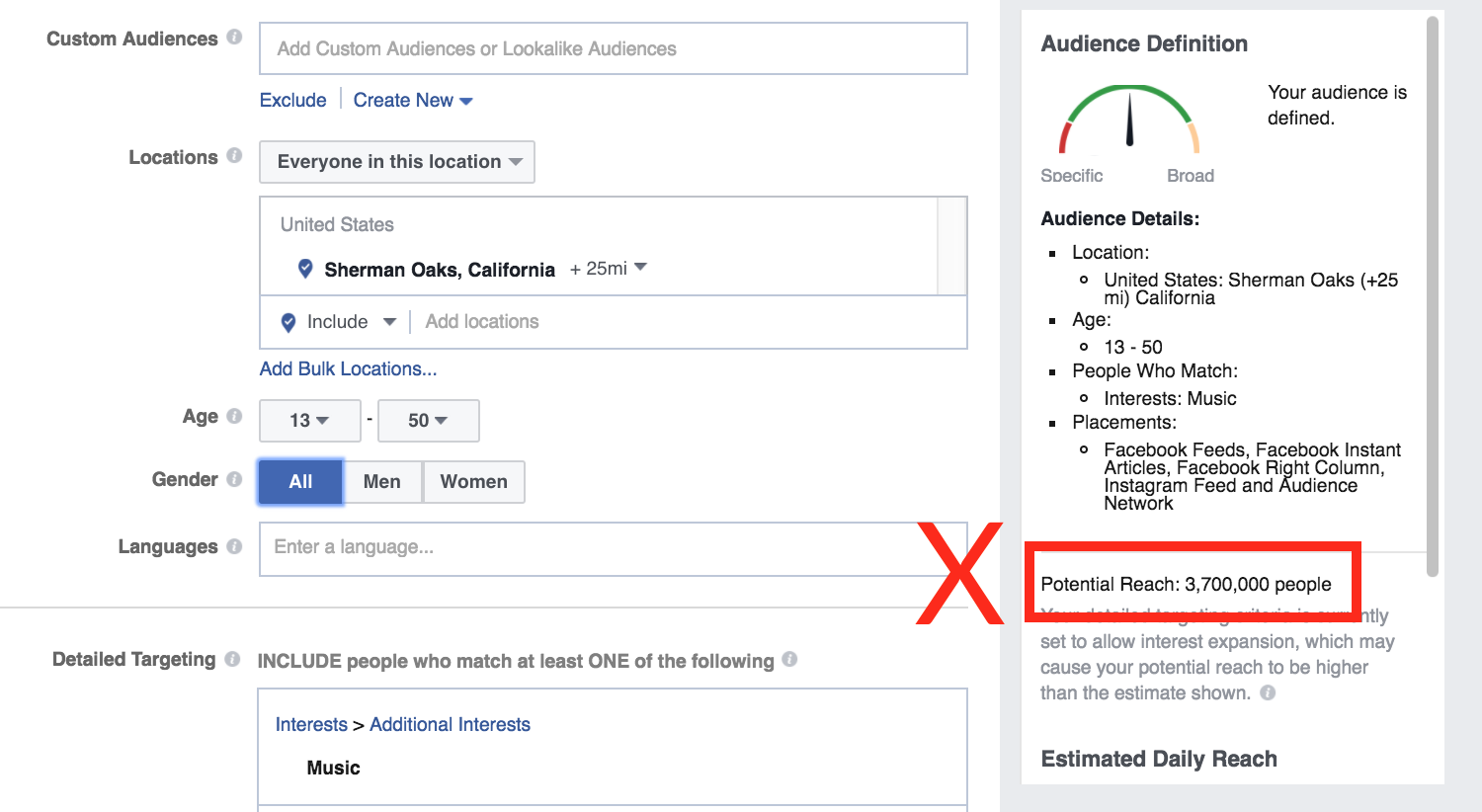 Note that the meter in the top right corner doesn't always indicate an ideal reach! If your reach is too small, you may not see positive results from your campaign because not enough people fit the audience criteria.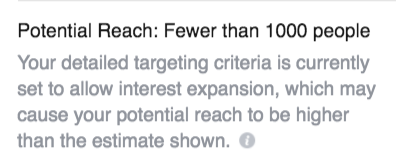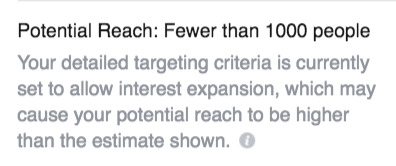 So how do you find that perfect balance when creating an audience? Use these tips:
Test Your Targets
The only way to determine the effectiveness of your audiences is to test different ones. Run separate campaigns with extremely relevant audiences (which might result in a lower reach) and the type of target (which might result in a larger reach but focuses on one particular demographic or interest).
Tie Your Targeting to Your Objectives
Create audiences that match your campaign goals. For example, if your objective is to build brand awareness, a wider audience is may be ideal. But if your ad objective is to drive in-store visits, you'll want to choose a very narrow location and ensure they're interested in the products you sell. Tying your audiences to your campaign objectives is something your advertising agency can help you determine.
Start Wide
Advertising on Facebook should align with the buyer's journey. That's why the objectives are broken down into awareness, consideration, and conversion.


Start with a campaign that targets a wider audience with the objective of building brand awareness or expanding your reach. Then, you can get more granular with another campaign with an objective from the consideration category, targeting the users who engaged with your first campaign.
Combine Targets
Try different combinations of audiences. Show the exact same ad to multiple audiences with and/or parameters to determine which groups convert. This might mean creating audiences with overlapping characteristics.
The key to mastering Facebook ads is doing prior research on your personas, targeting effectively, and analyzing your ads to determine the common attributes of the users who convert. It can take a lot of time to browse through and explore the different targeting options, especially when you're just getting started with Facebook advertising. Work with an expert who knows the ins and outs of the platform and can create new audiences quickly that fit best with your objectives.