Access our iOS 14.5 Doomsday Checklist for a quick run-down on how to brace your Facebook ads for impact.
Since late last year, the upcoming iOS 14 privacy update has been looming large. A mysterious threat to Facebook advertisers who are scrambling for solutions, little is certain except this: It will make their jobs much harder.
Now, iOS 14.5 is no longer just on the horizon, it's approaching shore in the coming days. Ultimately, this update will require app developers (like Facebook) to request permission from mobile users to track their data across various apps and websites. This request will come in the form of a pop-up, which many feel is more imposing than necessary.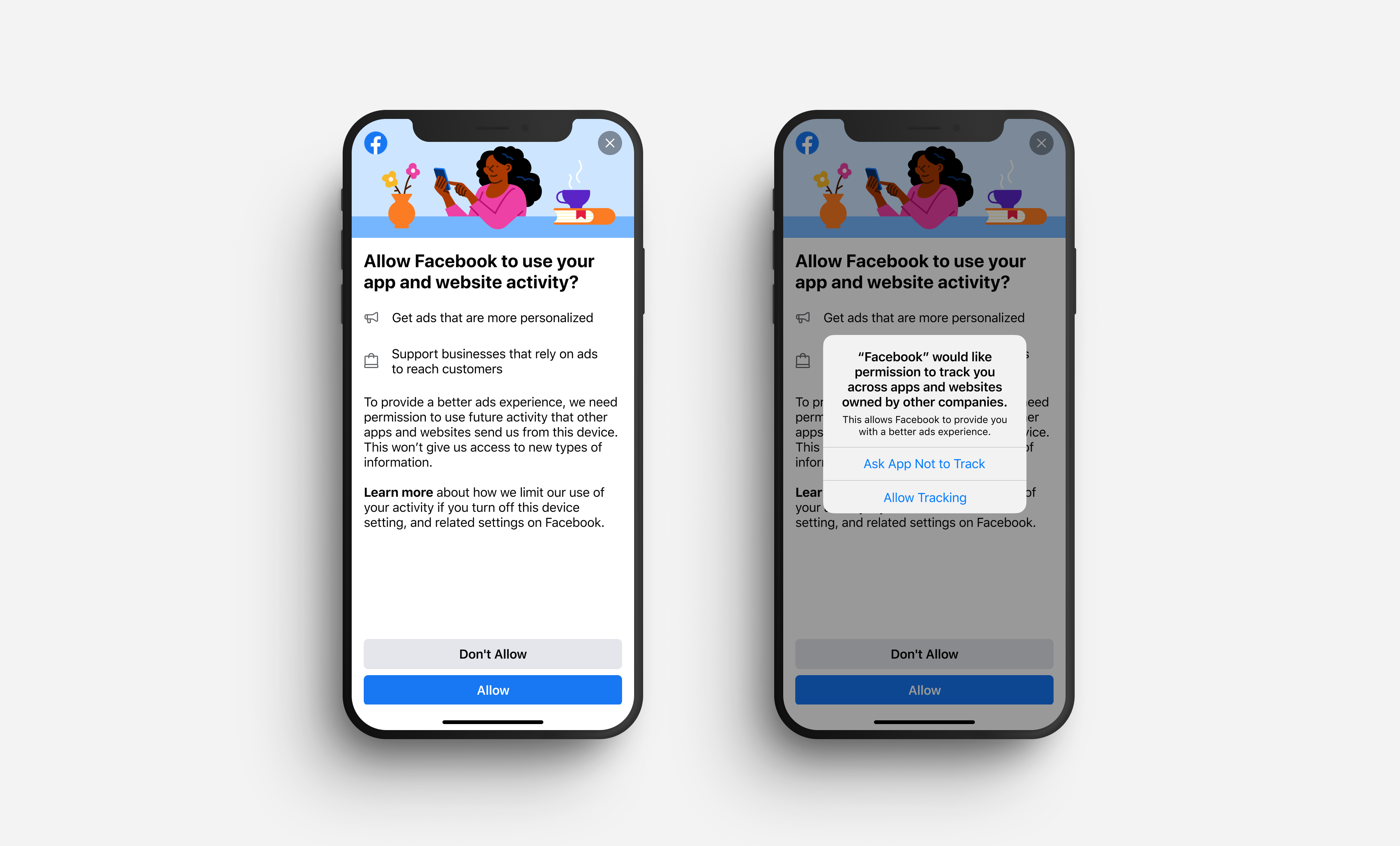 Source: Bloomberg
The pop-up text is as follows: [App] would like permission to track you across apps and websites owned by other companies. This allows [app] to provide you with a better ads experience.
For the most part, that second sentence is very true. If you're going to see ads anyways, why not at least ensure they're ads to products you're interested in, right?
However, rising privacy concerns combat that logic for many consumers. Unfortunately, small business owners and eCommerce stores will take the brunt of the impact. With most users likely to opt out of tracking, the iOS 14 privacy update will directly affect the re-targeting capabilities many brands rely on to curate audiences.
With less detailed targeting and event-tracking, the personalized ads that make up a large chunk of eCommerce sales for many brands will be out of the picture. It's important to note that this mainly applies to iPhone users. So, brands who cater to an older demographic that's most likely to operate on Android or desktop could be less affected.

What iOS 14 Means for Facebook Ads
If a significant number of iPhone users opt out, as predicted, cross-platform retargeting via third-party data will be virtually impossible for advertisers. No longer will cookies be able to track Facebook users across various online activities, such as browser searches, Amazon activity, etc.. Facebook, for all intents and purposes, becomes a vacuum.
As a result, advertisers who rely heavily on Facebook ads stand to lose a significant portion of their revenue.
Currently, the following Facebook ad tracking metrics are at risk, with the first two already deprecated:
28-day attribution: Historical data will still be accessible via Ads Insights API. This will be replaced with 7-day click attribution.
7-day view-through: Tracks actions that took place within seven days of someone viewing your Facebook ad. This will be replaced with 1-day view attribution.
Offsite conversion events: Such as those tracked by off-Facebook; i.e. "REGISTRATION" (filling out a form on your website) or "CHECKOUT" (making a purchase on your website)
In a nutshell, you'll be able to target based on location and demographics, but it will be less detailed data than before.

Preparing Your Ads for the iOS 14 Update
At the moment, there are three key solutions for still extracting detailed audience data without violating any rules or guidelines. After the release of the official update though, it's possible additional workarounds could be found.
Verify Your Domain
Verifying your domain through Events Manager is pertinent if you have Facebook Pixels in use by multiple Business Managers or ad accounts. With a verified domain, you can ensure there are no disruptions to your conversion event configurations.
Fortunately, Facebook is also releasing an Aggregated Event Measurement functionality to counter some of the iOS 14.5 changes. According to Facebook, this will help "you measure campaign performance in a way that is consistent with consumers' decisions about their data."
The only caveat with Aggregated Event Measurement is that it imposes an 8-conversion limit. This means that advertisers can only track eight conversion events per domain, which can be configured in the Events Manager.

Build Your Own Audience
It's Marketing 1.0 all over again. Naturally, the most straightforward suggestion is to gather as much first-party data as possible.
"Although we don't know how soon or to what extent, custom audiences like those used for retargeting are expected to have declining performance," says Melissa Dominguez, a PPC Account Manager at Conversion Giant. "Facebook advertisers will have to rely more heavily on retargeting to audiences created by email lists or user behavior gathered directly from the advertiser's Facebook page."
And using data from email marketing lists is a perfect place to start. If you use a platform like Klaviyo, you're in luck. Klaviyo has evolved from an email marketing service to an all-in-one eCommerce marketing platform in recent years, and its retargeting capabilities are spectacular.
Apps like Klaviyo integrate with Facebook Advertising rather easily.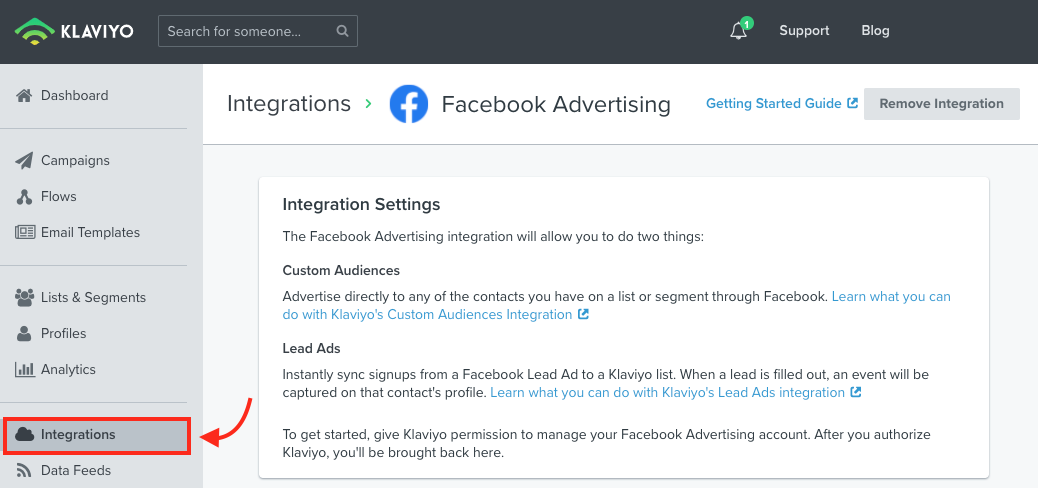 Once connected, you can sync lists and segments from Klaviyo into your Facebook Ads account to create custom audiences based on email marketing data.
For example, you can create a Klaviyo segment for non-engaged subscribers and non-openers. Then, place them into a Custom Audience in Facebook for an ad intended to generate website traffic with an incentive to re-engage them, like an exclusive discount.
"I think it's just Marketing 101 at the end of the day," says Matt Johnston, a social video expert, in this interview with Wes McDowell. "It's taking people through a marketing funnel in the classic way, from awareness to consideration to conversion, holding their hand through the journey, building relationships with people, getting them on the email list, getting them to like and follow your pages organically. You need to start owning the data."

Focus on Actions within Facebook
Third-party data may be off the table, but you can still retarget based on actions users take within Facebook itself. By retargeting based on general engagement with your ads and posts, you can salvage some of your ad performance.
One method that Johnston recommends is video retargeting. Build out a Custom Audience based on users who have watched 50-75% of a video you posted. Most likely, you'll need to amend this percentage based on the length of the video. For shorter videos, you might want to retarget users who have watched 95% of a video.


Source: WPromote
From here, you can move them to the next step in your sales funnel. You can also retarget based on previous post likes, ad clicks, page follows, or CTAs they have clicked on former Facebook Ads.

Install CAPI
Is this one a bit of a cheat? Probably. Does it work? For the most part, yes.
Conversions API (CAPI) is a plugin between Facebook and your eCommerce platform (Shopify, WooCommerce, etc.) that syncs customer data without the use of the Facebook Pixel. Though data will still be limited, it at least allows you to know when conversions take place.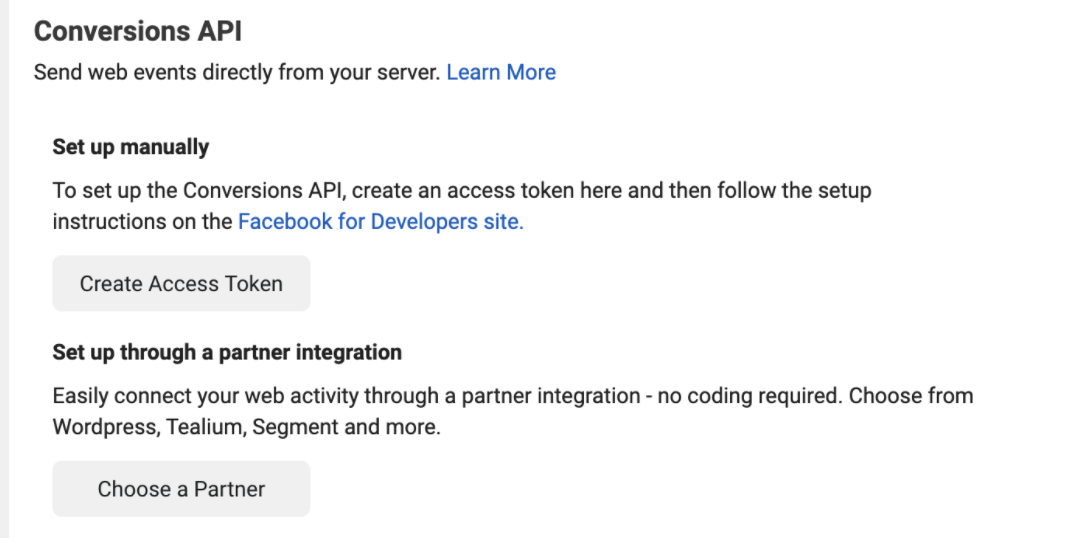 Source: Facebook for Developers
According to Johnston, CAPI is a bit like "an underwater electrical line between your website and Facebook."
And this is actually a perfect way to describe it. While the Facebook Pixel passes on browser-side data, the CAPI operates on server-side data. As such, it's not restricted by ad blockers, third-party data restrictions, and iOS 14. However, it will still be limited to the eight conversion events you set up in Events Manager.
Hand-in-hand with CAPI, you'll want to enable value sets. Though only applicable to advertisers with higher volume and budgets, Value Optimization (VO) is transitioning from Ads Manager to Events Manager. Here, you'll want to enable value sets, which automatically use four out of your eight configured conversion events. It groups them for, well… optimized value!

Smoothly Transitioning to iOS 14
Take advantage of the time before iOS 14 officially rolls out to ensure a smooth transition. This begins with client communication. Get in touch with your clients and let them know this update is happening — heck, maybe even send them this article!
Go into your client meeting prepared with some new campaigns to which they can reallocate their retargeting ads budget. Keep in mind that you'll also need access to your client's Business Manager in order to implement CAPI, so take this opportunity to coordinate a screen share call to set this up.
Offer up some supplemental solutions as well, in addition to the main ones mentioned above. These can include:
Setting up Facebook Shops and Instagram Shopping. Using the native shopping platform offerings of these social media can curtail lost website traffic.
Add UTMs to all of your Facebook ads that direct users offsite. That way you can track their success in Google Analytics.
Implement post-purchase surveys. Back to the suggestion of gathering more first-party data, post-purchase surveys measuring customer satisfaction and future intent could be highly valuable.
We predict this update will have a lot of people weighing the pros and cons of personalized ads. On the one hand, it leads to limited privacy. But, on the other, it makes for a less intrusive ad experience when your ads are based on your actual interests.
"Data being tracked is commonly perceived as invasive and wrong," Dominguez says. "However, most people are inevitably going to be shown ads on the apps they use daily anyways. It would be better to track user data so that users are shown ads that are tailored to their personal preference, as opposed to ads that aren't."
Some marketers predict this move could even be beneficial to advertisers in the long run. If advertisers leave the platform as a result, it could drive down the cost of Facebook advertising for others due to less competition.
Still, Facebook is taking the opportunity to drive home the implications of iOS 14. Most prominently, they've created a page with testimonies from small business owners who are dismayed by the change, and who credit these retargeting capabilities for their business' survival during the pandemic.
"It's even fun to wonder about Apple trying to revamp their own ad network and going toe-to-toe with Google, Facebook, and Bing," says Carl Weber, a veteran PPC Account Manager at Conversion Giant. "But, I think it would ultimately run into too many problems to be sustainable. We are very much in a wait-and-see mode as to what the impact will be."