Disclaimer: Please forgive all the balloon puns. They were simply AIR-resistible.
A few weeks ago, we referenced a report from Glimpse, which shows the upward and downward trends in interest since COVID-19 entered the mix in mid to late March. We noted that search queries for "ukuleles" and "living wills" were on the rise. Ironically, searches for "balloons" were floating away, so to speak. As were searches for "alarm clocks."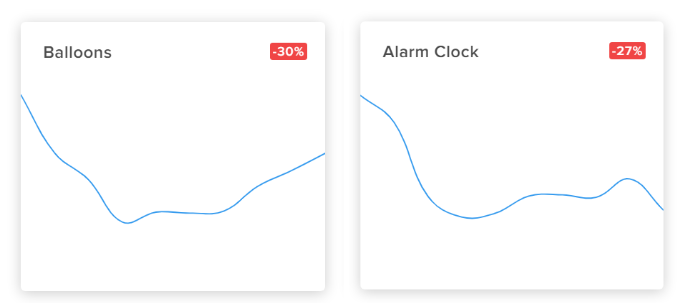 Since then, we've seen a continued rise in most things that were headed up. But, what about those things that were trending downward? 
Well, alarm clocks are still heading down, but balloons are back on the up-and-up.
I guess when it comes to birthdays expenses, balloons are easier to float than an entire party for 30 people or kids. They've been on the rise for about three weeks now.
Recently, we dug into our client list to see what industries were performing as of about 10-14 days ago. There are a few worth noting, especially if you benefit directly or indirectly from these industries doing better.
Financial Services – Up 34% –

Everything from check printing to mortgage loans. With home loan interest rates so low, many homebuyers are taking advantage of refinancing.

Construction – Up 48% –

Scaffolding, Fencing, Kitchen/Bath Cabinets, Safety Training, and more.

Online Education – Up 78% –

Safety Training and Aeronautical training.
Unsurprisingly, with talk of the country reopening soon, this seems to have stoked buying confidence all around. Businesses are certainly looking for a reason to get back to work, and unemployed people are looking for every opportunity to enter a new job market.
Still, some industries are seeing a much bigger surge than others. Why?
Taking into account the most recent data from last week's massive stimulus check sendout to nearly 80 million Americans, we sought out week-over-week changes in buying metrics across our client list. 
The two big winners are: 
Gifts (Up 67%) 
Recreational Products (Up 190%)
We would never suggest that people misappropriated stimulus money or splurged on unnecessary items. We know that millions of Americans are struggling to make ends meet and really need this payment to put food on the table. 
However, there's a substantial number of people whose priorities lie elsewhere. They're buying up brand new pool cues and sterling flatware sets. 
If there's something you wouldn't normally buy your family of four, I'd imagine $2700 in the mail can act as motivation. Or, even if you're single and receiving $1200, you wouldn't bear much guilt buying a special gift for someone.
Of course, you would never use that check to buy something for yourself… right?
Even if you have, there is no judgment, friends. The purpose of the check is to first make sure people can eat and pay their necessary bills (…like $1200 would cover all the bills; we know it only helps). Secondly, the check is to create a "stimulus." So,  if you are buying a gift for yourself or someone else (wink), whether it's 100% necessary or 100% compulsory, you are stimulating the economy.
In turn, you are helping our clients, and therefore helping us as well. So thank you to all of you who purchased golf clubs and jewelry last week. 
You've not only treat yourself to a special something, but you've done a great service to your country — and you deserve to enjoy it!