Expanding your product offering to multiple countries is a great way to broaden your brand's reach. However, it can be fraught with a few challenges when it comes to managing shopping feeds through Google Merchant Center (GMC) and separate websites for each locale. 
Some challenges multi-country advertisers face include: 
Currency Consistency:

Getting product feeds to display in your customer's correct currency when they land on your website.

Language Consistency:

Getting products to display in your customer's preferred language. 

Discount + Currency Alignment:

Configuring your website's native rules (in your native currency) to translate promotions and offers to customers' local currency. 

Organic Visibility:

Deciding whether or not you'd like your website to show up in the organic search results for other countries as well. 
We'll walk you through how to navigate GMC for multi-country shopping feed support, along with the benefits and drawbacks of each method. 
If you're not selling internationally, but feel your product has international appeal and this is a near-future consideration, it's worth educating yourself on the setup process. According to a recent study from Flow Commerce, 67% of online apparel shoppers from the top global markets have made a cross-border purchase in the last six months.
Two Options for Multi-Country Feeds in GMC
There are two ways to set up multi-country shopping feeds in GMC. The solution you choose will be dependent on budget, resources, current website conditions, and your organic ranking preferences. 
Option #1 – Separate subdomains & separate product feeds
This option relies on you creating separate subdomains for each region you wish to target. Though more involved and time-consuming, and likely relying on the help of a web developer, this option provides you with ultimate control over your product feeds. It allows for hyper-specificity in messaging (i.e. promotions, rules and settings, accounting, etc.)
Furthermore, having separate resources for each region makes it easier to track geographically-based ad performance, conversions by location, etc. 
If your organic visibility in each region is important to you, then this option is also favorable for SEO. However, this only applies if you are using a country code top-level domain (ccTLDs), such as .au for Australia or .uk for the United Kingdom — or if you are hosting a .com in that country. 
This is mostly helpful if your website actually references local offices or brick-and-mortar origins of sale in that region. Though far more effective for achieving organic visibility and out-of-country sales, this method is also more costly and difficult to manage. 
Option #2 – One (sub)domain with a currency conversion app onsite
Naturally, the one benefit of this approach over the previously mentioned one is that it's much simpler and easy to manage. With fewer domains to oversee, you can still focus on catering to your main domestic demographic without tearing resources away from it. It's less expensive and much easier to set up.
The downside is that you'll have less control over certain site functions as it pertains to price limits, promotions, etc. 
Having one domain for all countries you service also means your SEO will be narrowed down to your main country of sale. While you'll have little organic visibility in other countries, this may not be something that concerns you. 
Setting Up GMC for Multiple Countries
If you're new to multi-country e-commerce sales and don't want to invest too heavily in setting up new domains before you've assessed the potential of your international sales, setting up a single domain with a currency conversion app is the best method. 
Note: These instructions don't take into account setting up GMC for multiple languages, as you would need to follow additional steps (including creating a separate language feed and a separate website for that language).
Currency Conversion
Firstly, you'll want to configure your website to automatically convert prices to the native currency of your website visitors. For example, if you're an e-commerce site owner based in the US but you want to attract Canadian customers as well, then you'll want prices to convert from USD to CAD when they visit the site. 
For Shopify, this means adding an app like Auto Currency Switcher. Not only does it allow you to add a currency selection dropdown to your website, but it can also automatically detect the country customers are in and adjust the pricing accordingly.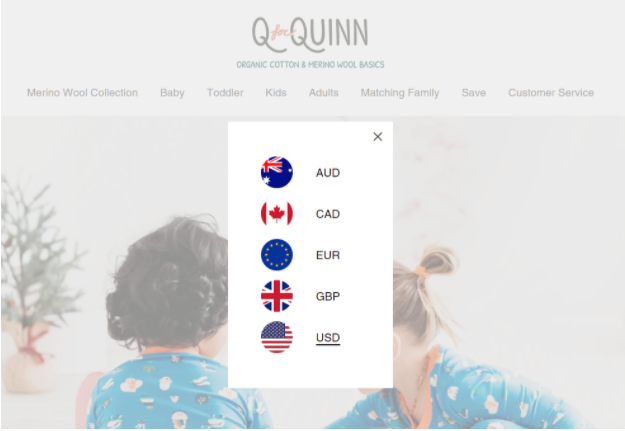 Meanwhile, for WooCommerce, there is a plugin called WooCommerce Currency Switcher that performs the same task. Though this WordPress plugin is not vetted by the Conversion Giant team, the plugin summary aligns with what most multi-country e-commerce websites will need. There are also many others on the WP plugins site.
Important: No matter which app or plugin you choose, make sure it's one that converts the currency automatically, as opposed to asking website visitors to choose their preferred currency. This makes for a much more favorable user experience. 
Adding Countries in GMC
Next, navigate to your GMC account, but don't set up an additional feed. Instead, you'll be adding additional countries to your existing feed. Simply click on your feed — for Shopify users, this is usually called Content API — and go to add "Additional Countries."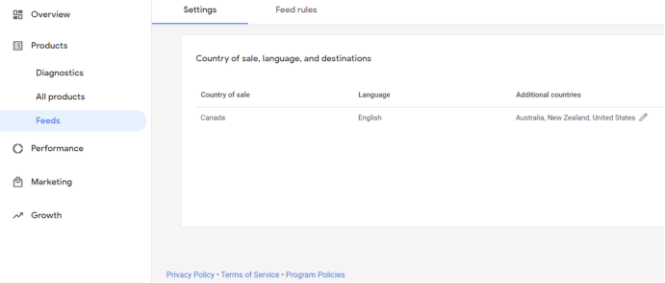 Make sure the "Free listings" and "Shopping ads" options are checked. 
Hooray! Your GMC configuration is complete. Yep, it's that simple. 
This will work because Google has a cool built-in feature called Currency Conversion. This triggers automatically when the feed currency is different from the target visitor's currency. 
For example, below are Google shopping ad examples for a Canadian advertiser whose prices are converted to USD.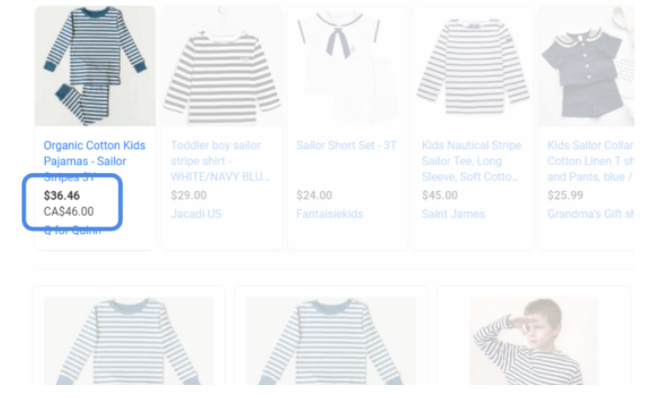 The Canadian price is listed below, which means you don't need to install a separate currency switcher, but we definitely recommend you do so anyways so there is less friction when the shopper actually clicks to your website. Otherwise, if they see a foreign currency onsite, they may get scared away again. 
Completing the Process
This can be a foreign — in more ways than one — experience for many. It can be easy to feel like there are additional settings you need to fret about. If you're using Shopify, you don't need to stress about changing the "Target market" in the Google channel settings. Just keep it the same as your local market. 

Similarly, when you link up your feed to Google Ads, don't panic about it not showing products listed for that country. This is because your feed's main location is still your store country.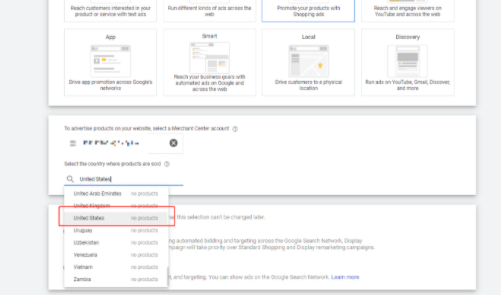 If you're setting up a new GMC account, you will need to configure your tax settings and shipping rules. Otherwise, you're good to go! 
As you embark on the road to mass appeal and international recognition for your brand, remember that consistency is key — whether it's in your pricing, messaging, or even just the overall aesthetic of your website. 
Resources: