Imagine you made all of your major purchasing decisions blindfolded: your house, your car, what college you send your kids to. After all, it's not about how you spend your money, it's just about getting something in return… right? 
Obviously, that can't be farther from the truth. Yet from some reason, countless advertisers apply this logic to their Google Shopping Ads. Specifically, their Google Smart Shopping Ads. 
So many Google Smart Shopping advertisers throw away their budgets to a non-specific outcome. If this sounds like you, don't beat yourself up. We're not here to put down the way advertisers do their job. We're here to lend a critical eye to the fact that Google has purposely made it difficult to optimize Smart Shopping campaigns. This, in turn, hides the ability for advertisers to even try and point their dollars to the highest returning set of products. 
Today, we'll talk about all the reasons why you are not seeing better results from your Smart Shopping ads and what you can do to maximize the returns from those campaigns.
Causes for Underperformance
If you've noticed lately that your Google Smart Shopping campaigns suck — for lack of a better word — there could be several reasons. It might have to do with Google not getting enough data to meet the criteria set in your Shopping campaign bid strategy. 
Here are some potential diagnoses: 
Post-pandemic eCommerce lull: People are buying online less than they were in the thick of COVID.
Annual seasonality: Shifts in peak time-of-year for your products.
iOS 14.5 update: Users are opting out of sharing third-party cookies on a pretty grand scale.
New website: This can affect conversion performance and confuse the algorithm.
Things that might not be causal, but definitely exacerbate the problem, include: 
Small budget, given the quantity of products advertised

Large quantity of products ,given the budget allocation

Constant changes to product data (inventory, price, new SKUs, etc.)

Your customer base tends to buy random products you sell and there are only a few top-sellers or frequently purchased products


The Plan: Building a Machine

What we essentially want to do is to carve out a subset of products that have known product performance metrics — either good or bad — and then add them to separate bucket campaigns. This process is designed to develop a system that ultimately gets you to spend ad dollars more efficiently on your highest return products. 
This is in contrast to what you might be doing now, which is uploading a feed, assigning a budget, and allowing Google to show the products it wants to, despite any bidding strategies you set. The problem here is that Google will spend money on the products it gets the most volume on, even if it's not the best returning set of products.
As an advertiser, you need to take back as much control of this process as you can or you're going to get what you get. And as we always tell our kids: "You get what you get and you don't get upset!"
Let's be honest, though. They're thinking: "We want what we want and we're going fight you until we get something!"


Note: This strategy will be most helpful to advertisers with a large catalog of products. If you have just a few products, then you might require a different strategy altogether. Feel free to reach out if you want Conversion Giant to take a look at your account.

So, when we are breaking out campaigns to consider higher performance, we need to define what we consider to be positive.
Examples of positive performance include:
Products that have converted more than once in X period of time

Products that lead to higher tickets (including paired sales)

Products that are less competitive

Products with higher margin
Examples of low performance include:
Products that have not converted or, have only converted once, in the same time period

Products that typically constitute a low ticket sale

Products that are very competitive

Products with low margin
Here are the requirements for implementing The Machine strategy:
You must have a history (in Google Analytics) of advertising that includes multiple single-product purchases in a portion of your total products. 

You must be able to pull that historical data from Google Analytics.

This history will typically be 3+ months, but is better to have 6-12 months worth of data. 

You must have enough ad spend to support higher performing products and lower performing products. You might not know what that looks like before you build it, but once it ramps up, Google will tell you know (wink wink).


Step 1: Get the data.

This involves generating a report from Google Analytics that has performance data for each Item ID (not the Product SKU) across campaigns. It is the only way to get downloadable Item ID-level reporting across campaigns.
To do this, you'll need to: 
Login to Google Ads

Using the top nav bar, go to Report > Predefined Reports > Shopping. Choose: Shopping – Item ID from the dropdown

Double check the columns are what you want (may need to add revenue, ROAS, or others)

Set the date range

Download report

In Excel, use filtering and sorting to select what products you want based on your criteria
Some common criteria to consider are: 
Number of sales/conversions

Amount of revenue

ROAS

Conversion rate

Poor performers (to exclude them or move to a high tROAS campaign)
Now you have a list of Item IDs that you can use to build a campaign or exclude from other campaigns.


Pro Tip:
We typically look at all products which are likely to sell even if they sold outside Shopping campaigns or even outside the Google CPC channel. If the high performers seem to encompass most of the products, then we can look to filter by campaign or source when reviewing the Product Performance report.

Step 2: Create the buckets. 

You'll start by taking the positive performing product set and creating a "Best Sellers – X Time Frame" Smart Shopping Campaign. 
Mark all the IDs from your export sort that you want to add as 'best sellers'

Once you have those products marked, copy only the Item IDs of

those

products

In that campaign, under the 'All Products' product group, click Edit Subdivision

Subdivide All Products by 'Item ID'

Paste all the Item ID values into 'Item ID' at the bottom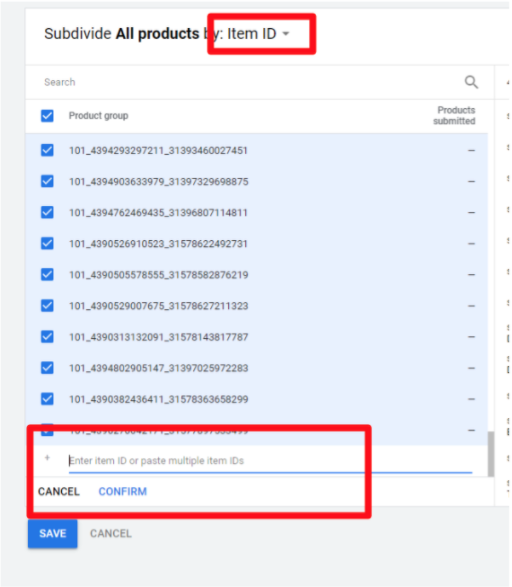 The new Best Sellers Smart Shopping Campaign is going to be your primary campaign where you allocate the larger parts of your budget. You'll want to play around with budgets to make sure it's given enough resources to generate impressions and clicks on almost all of the products on a semi-consistent basis. There are no hard rules for this, so you should monitor it but make sure it's getting enough budget to serve a large set of products daily.
The initial campaign then becomes a 'General' product campaign and will serve as a holding tank for the remaining products to compete and contend for 'bestseller' status. 


Pro Tip:
You can also create two buckets for "bestsellers" and "ultra bestsellers", which might take products that have more than XX or XXX unique purchases. This would be handy if a smaller group of products drive a substantial share of the total revenue.

Step 3: Oversee and monitor. 

The 'Machine' really just refers to doing your due diligence by monitoring which products are performing and which ones are not. Then, move products from one campaign to the other based on the products' performance. Products in the 'Bestsellers' campaign need to have enough impressions and clicks to make this kind of assessment, whereas many products in the 'General' campaign won't get impressions.
You'll want to be sure you are giving products a realistic amount of time to accrue data before making any assessments regarding their performance. 
You may also repeat this process for product categories or types based on the needs of your business. You might want to have separate machines for seasonality reasons or just to generally spend more/less money on specific areas of your total product set.


Advanced Strategies

While we won't cover this in detail today, you can also flag products that have potential to be top performers for reasons like margin, high ticket amount, or less competition, then add those to a separate campaign and give them a smaller budget. If they start selling, add them to the 'Bestsellers.'
In contrast, those products that will only hurt your campaigns for the inverse reasons can be flagged as a suppressed campaign with a minuscule budget or just excluded altogether. 
You could also try running general or low-performing products in Standard Shopping so that you can gain additional insight from keyword queries. This could shed some light as to why products might not be performing. 
In the end, Google is always trying to take control away from advertisers. However, there are several ways to skin this cat. That is really the art of Google Ads. The worst thing you can do is leave all up to Google to decide because there are profits to be had if you're willing to take the time and put in the work on a routine basis.