"Okay, Google…"
"Hey, Siri…"
"Alexa…"
All of these prompts are rising in popularity as precursors to search queries. Our mobile and smart home devices love the sound of our voice. For digital marketers, this means conforming PPC campaigns to accommodate this fact.
In fact, a study by Kleiner Perkins shows that one in five searches conducted last year were voice searches. The convenient and conversational nature of voice search makes it a growing trend. It's no wonder that 46% of people in the U.S. use voice-enabled digital assistants.
In fact, marketers predict that 50% of all searches will be voice searches by 2020.
There are a few characteristics of voice search queries to keep in mind. For starters, they tend to be longer (usually more than 5 or 6 words). This is a result of the fact that they also typically come in the form of a question. Lastly, voice searches are predominantly locally-oriented, heavily containing phrases like "near me." With these considerations in mind, it's time to begin reworking your PPC strategy for voice search.
Check Existing Search Term Data
The first thing you'll want to determine is whether you are even receiving any voice traffic. The best way to do this is to export a search query report from Google AdWords into a CSV (Excel spreadsheet). From there, narrow down the most used personal assistants by filtering the "Search term" column to phrases containing "Ok Google", "Siri", or "Alexa". From here, you can see what kind of queries are drawing users to your site and what keywords they contain.
You can also pull a search term report from your Google Search Console, although this one will look a little different. While you will still export the data into an excel sheet, you will want to delete all columns except the "Search term" and "Impressions" columns. From here, you can isolate which search queries are more likely to be the result of voice searches using the following formula:
Image Source: Moz
"A1" in this formula will be replaced by the cell number of the start of your search term column. Apply the formula down the column so as to sort the results by query length. Any that have a word count of 5+ are more likely to be voice searches, but note that natural language searches can also be typed.
While this is not as accurate a method, it will still give you an idea of what kind of searches people would be conducting on voice assistants, as they tend to be longer queries.
Analyzing the Data
Having access to this data not only allows you to extrapolate keywords you may not have thought of before, but it allows you to assess your customer's intent. Voice search queries are more likely to contain how's, what's, why's, where's, and when's. Each of these determine where you fall within the cycle of intent.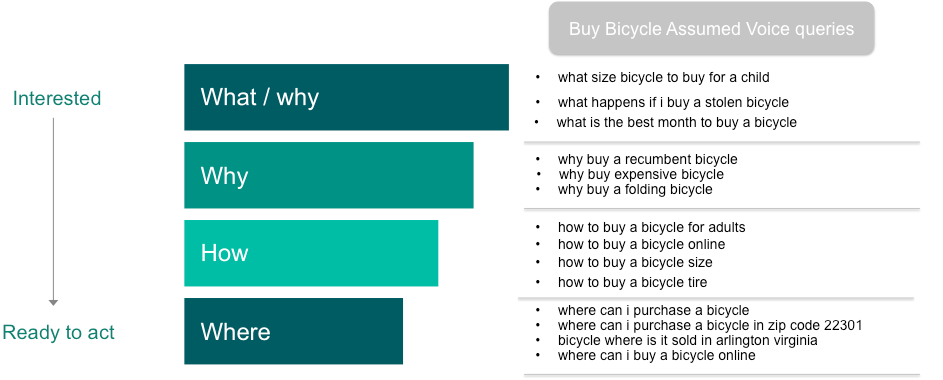 Image Source: Moz
For instance, ranking for phrases that include "what/why" could signify that your website falls within the awareness portion of the buying cycle. This indicates that your website is often used as a resource for information on a product, service, etc.
Ranking for phrases that include "where" likely signifies that your website falls at the bottom of the funnel, which is the ideal place to be for e-commerce websites. This means users are being sent to your site when they're ready to make a purchase. This is where local searches become hypercritical.
Setting Up Voice-Based PPC Campaigns
Now that you've been able to determine which phrases are driving people to your landing pages, you can optimize your campaigns toward purchase intent. The keywords you bid on will depend on your business/website, but you can easily decide what these are.
For example, if the goal of your website is to provide resources/educational content, you won't want to bid on search terms with local intent. You'll likely focus on the "what" and "why" questions more than the "where" and "how". Optimize for these by flushing out your FAQ section and incorporating more of these queries on your website.
If you are a local business owner, you'll want to bid higher on search terms with local intent. For instance, say you own a discount shoe store in Memphis, TN. You will want to bid more on search terms such as "discount shoe store near me" or "best discount shoe stores in Memphis". The former of these two search terms will fare well in Google Map ads.  
Voice searches also often pull up product listing ads via Google Shopping. For e-commerce websites, it will be worth setting up Shopping Campaigns within your PPC account. These image-based search results make it more likely for users to click on the result and reach the purchase phase.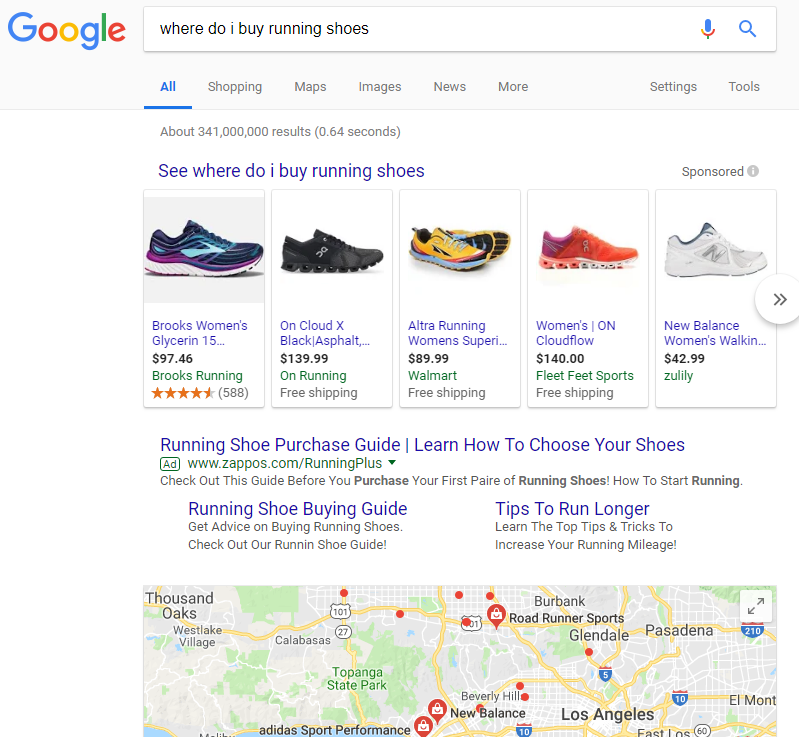 Make sure your business listings are up-to-date also, and include all the basic contact info (name of business, address, phone number, open hours). As people often use voice search to find out business hours and phone numbers, ensuring this info is readily available will bring users only that much closer to purchase intent.
Ultimately, when it comes to optimizing your PPC campaigns for voice search, the two rules of thumb are: a) bid on long-tail/conversational search terms, and b) consider phrases that will get users closer to your goal conversion. Voice search may still have a way to go, but considering our reliance on Siri for everything from directions to telling corny jokes, it's only a matter of time before it becomes a turning point in digital marketing efforts.
Beginning the optimization process now will help you get ahead of the game, and will allow you to gain a more detailed perspective on the questions your website addresses (or should address).