Many retailers see online reviews for their products as a luxury rather than a necessity. The truth is that reviews are crucial to not only boosting your sales, but giving your SEO value a significant bolster. With brick-and-mortar stores being quickly overtaken by online shopping, customers need reviews to better determine which products or services are right for them.
Most people check reviews before making a purchase, with 93% of shoppers claiming their purchases are strongly influenced by online reviews. Furthermore, 84% say they trust online reviews as much as personal recommendations from friends.
Reviews are no small potatoes when it comes to impacting purchasing decisions – and putting your business on the map. According to Moz, reviews significantly impact local rankings and account for 15% of local ranking factors. For brick-and-mortar stores, these are groundbreaking findings. BigCommerce reinforces this fact, stating that 75% of customers rely on online reviews as a factor for determining the quality of local businesses.
Collecting reviews is just as important as keeping up a positive review reputation. A Shopify study shows that customers read about 4-6 reviews before deciding whether or not to trust a product/service. So, if every two out of three reviews about your product or company are negative, you're looking at a lost potential client base.
Importance of Reviews for SEO
Reviews drive more customers to your website because they boost your SEO value, and those customers rely on those reviews to make more purchases from you. They also make your listing more attractive in search listings.
Creates more content – When thinking about incorporating on-site reviews, many retailers don't realize the SEO advantages they provide. Reviews provide more content for the SEO spiders that crawl your site, often even contributing relevant keywords that people are likely to search for. Many product descriptions are sparse or written by individuals who aren't familiar with composing SEO-friendly copy. That's where product reviews come in to make up for these drawbacks.
Adds longtail keywords – They also assist with adding more long-tail keywords to the list of keywords your site ranks for. A longtail keyword is a keyword phrase that usually consists of three or more words, such as "self-cleaning toilet" or "insulated shoe insoles".
Long-tail keywords target a more purchase-ready user, one who is toward the bottom of the sales funnel and knows the specifics of the kind of product they want. These shoppers are the most valuable, because they are closest to the end of the buying cycle. They have done their research and are now determining which retailer has the best version of the product they're searching for – cue your reviews.
Generates a review snippet – If you generate enough reviews, Google will often even add a review snippet to your business or website's listing on the search engine results page (SERP). This features a star rating that shows the average of reviews on your website/product, as well as excerpts of some of the reviews. Listings with review snippets generate a 10-20% higher click-through rate from the SERP your website.

How Not to Use Reviews
With all this information in mind, you may be all fired up about starting a review-generating project. However, it's important to let these reviews come to you organically by simply satisfying your customers as much as possible. Two of the worst things retailers can do to get reviews include:
Hiring an army of freelancers to write fake reviews.

Giving away free stuff to get reviews.
No matter how well you feel you're covering up your review-generating scheme, even one suggestion of fake reviews can tarnish your business' reputation. Additionally, review aggregators like Yelp have specific algorithms in place for targeting fake reviews. Third-party sellers, like Amazon, have this in place too.
Websites like Amazon have a "Verified Purchase" system in place, in which customers that have a record of buying that product receive a special badge next to that review. If Amazon cannot confirm that a specific customer has purchased the product they're reviewing, they won't receive this badge – and many Amazon shoppers know to be wary of reviews that lack that badge.
How to Get Natural Reviews
Just because we might have discounted your plan to obtain reviews doesn't mean there's no way to do so. In fact, trying to get real reviews could prove to be easier (and more cost-effective) than trying to generate fake ones.
There are a number of ways to encourage your customers to leave a review.
Send a follow-up email.

Set up an email marketing campaign that will re-target customers who have purchased a product from you. Once you receive a notification that the customer's product has been delivered, trigger an email that thanks them for their purchase and asks them to leave an honest review of the product.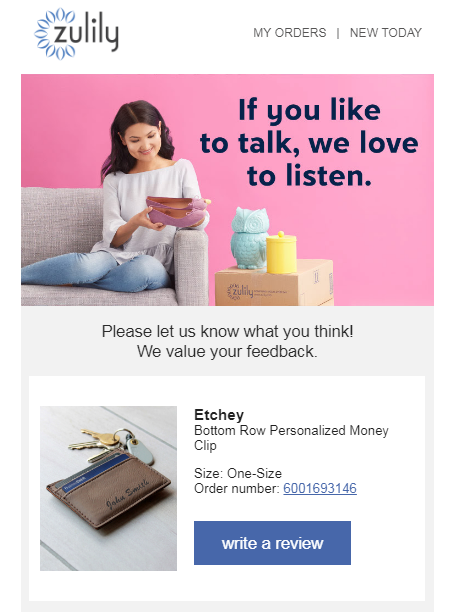 Prefacing the request with a heartfelt "thank you" note gives your customer the needed encouragement to go out of their way to post a review. Third party apps like Yotpo, Judge.me, and WooCommerce Product Reviews Pro can be easily integrated with the top eCommerce platforms to automatically send out review request emails.

Include a "Thank You" card with the product.

In addition to the above step, consider including a physical card inside the product packaging that thanks the customer for their purchase and asks them to leave a review. This is helpful for customers who aren't attentive to their email or whose email follow-ups may fall into their Spam or Promotions folders.



Incentivize.

While giving away free products in exchange for reviews is not recommended, you can provide customers other incentives. Offer discounts on future purchases for buyers that leave a review. Even something small, like 10% off their next purchase, can make all the difference.
Stefan Dubois, founder of SurveyAnyplace, even suggests that donating a small amount to charity for every review customers leave could be a good strategy. Debois says this could boost reviews you get by 30% or more.
Dominating the Review Game
By following the above steps, you'll be able to establish an effective and lucrative review gathering process. If there's one improvement you're looking to make to your company's online presence, let this be it. Research shows that having product reviews can increase your conversion rate by up to 76 percent.
One of the keys to getting good reviews is to set the right expectations from the get-go. Oftentimes, bad reviews are a result of the manufacturer not being transparent a product's flaws or features. Honesty and transparency are absolutely crucial here.
Reviews help build trust, and that is their utmost selling point. Building trust is important in helping customers distinguish your product/service from that of your competitors. Years of observing buying cycles has confirmed one thing for sure: Customers are willing to spend more for a product, service, or company they trust.