Promo codes can be addictive. In fact, they're the reason people spend hours scouring the web before they make a purchase. Everyone's looking for a deal, and the retailer that offers it, is usually the one that gets the sale.
In fact, promotions and deals are the top motivator for email subscriptions. The top reason customers subscribe to email lists is so they can stay up-to-date when there are offers. Sure, some customers also like receiving informative content from a brand they follow, but that number pales in comparison to those seeking out sales.
Promotions are also one of the top reasons that customers spend more money. Online shoppers who use discount codes spend on average 24% more than shoppers who don't.
Coupons are still one of the most effective marketing strategies more than 100 years after their inception. In 2020 alone, 88% of consumers in the U.S. used coupons to make a purchase. Meanwhile, Google searches for "discount code" have increased by more than 50% since last year.
That's why Google is now finding ways to make it easier for customers to find deals, by making websites that offer deals a bit more visible in the search results.


Discounts in Google Shopping
With Back-to-School season around the corner — and experts expecting it to be a massive one for eCommerce — many retailers are looking for ways to incentivize customers to purchase from their website. Parents of K-12 students plan to spend $12.5 billion and nearly 39% of their back-to-school shopping budgets online this year.
In light of this predicted major Back-to-School shopping season, Google is rolling out a new feature. As of July 21, when users scroll through the Google Shopping tab, they may notice a section called "Deals related to your search."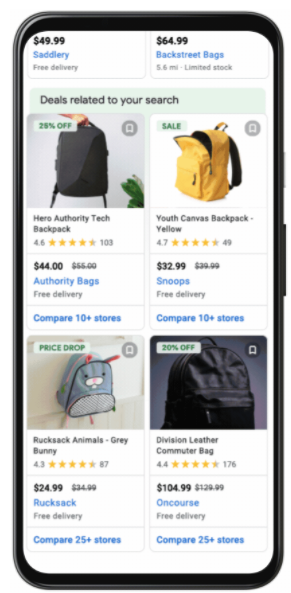 Source: Google Ads Support
This section will highlight relevant products that are currently offering promotions.
Furthermore, starting in October, Google is expanding the Deals section for U.S. customers to include even more seasonal sales events. Before, this section was mainly for Black Friday and Cyber Monday, but now it'll feature Labor Day, Back-to-School, and other smaller sales events.
Source: Google Search Central
Gaining Visibility for Sales & Discounts
In Google Shopping
In order to get your products to show up in this new "Deals related to your search section", you will want to upload your promotions to Google Merchant Center. To do this, sign into your Google Merchant Center account, navigate to the Marketing tab, and select Promotions. In this dashboard, you can view existing promotions or create a new one by clicking the blue plus button.
You can select from four types of promotions:
Percentage off (most popular)
Dollar amount off
Free gift with purchase
Free shipping
If you have a lot of products and offer a wide variety of promotions, you can also create a Promotions Feed spreadsheet and submit that. Make sure to map your promotions correctly to the products in your feed. Whether it's all products or specific products, you'll have to attribute them.
In Organic SERPs
To increase the likelihood of your sales showing up in the "Deals" section, you'll want to apply the same SEO best practices you would for any page you want to get ranking in the organic search results.
Create dedicated landing pages for major sales events and reuse the same URL each year.
Create these dedicated landing pages early so that Google has time to index them — this can take a few weeks or sometimes even a couple of months.
Include the sales event description in the page's title tag as this is what will show up in the search results (i.e. "Black Friday Apparel Sale 2021").
Accompany this with a high-quality image relevant to the sale, as this may also show up as a thumbnail.
Write detailed page content describing the promotion, what products are on sale, etc.
Link to this sales page from your homepage to begin driving some authority its way.


The Future of Discounts
Offering more sales can definitely help increase your visibility, and it carries multiple other benefits as well, like:
Increased CTR

Higher conversion rates

Cross-device appeal (since these features are available on mobile AND desktop)
If you're looking to differentiate yourself from your competitors in a post-pandemic environment, discount codes are the way to do so. And don't assume it's too early to start thinking about holiday promotions — it's not. Start planning now so that you can have the content and materials ready when the optimal time rolls around.