Ping! There's another text message. It might seem like we're desensitized to the excitement of receiving texts these days, but it never fails to trigger that much-needed dopamine release. Texts are still one of the most engaging forms of virtual communication, which is probably why SMS marketing is so successful. 
With the rise in mobile shopping, it's becoming especially important for e-commerce retailers to reach customers on their cellphones. After all, some 79% of smartphone users have made an online purchase using their device in the last 6 months. 
Still, many brands overlook SMS marketing because they feel it's intrusive or ineffective, but that's simply not the case. Nearly 75% of consumers report they're comfortable receiving text messages from brands so long as they've opted in first. According to Small Biz Daily, 75% of consumers also want to receive texts with special offers. 
Ultimately, proper SMS marketing comes down to three things: 
Frequency/timing

Messaging

Audience
Due to the implications of iOS 14.5, the importance of owning your audience data will prove more valuable than ever. Other types of audience targeting from third party cookies is becoming more difficult to pull off as platforms force data privacy rollouts. SMS marketing gives you one more way to own your audiences outside of other cookie-based digital methods.
Setting Up an SMS Marketing Campaign 
The first step in creating a successful SMS marketing campaign is finding the right tool. If you use an email marketing platform, it may already have built-in SMS capabilities, so make sure to look into that first.
For example, Klaviyo is mainly an email marketing platform that also offers SMS campaign management. This allows you to store all customers profiles, for email and SMS marketing, in one place so you can conveniently manage campaigns from one platform.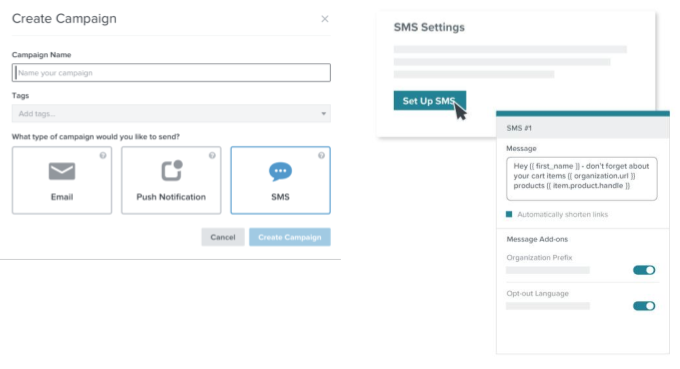 Source: Klaviyo
Mailchimp also offers integrations with some SMS marketing platforms, so make sure to take a look at which ones it easily connects to if that's your email marketing platform of choice. SimpleTexting and Text Marketer are two that tie in easily with MailChimp. 
There are plenty of favorable stand-alone SMS marketing tools as well. One of the most popular to date is MobileMonkey. Not only does it also work with Facebook Messenger, in the event that's your preferred platform, but it allows you to easily import phone numbers via CSV from other platforms like a CRM or email list. 
If your budget is flexible and you're looking for an SMS tool that really promises detailed campaigns and analytics, then Attentive Mobile is another great option. It's used by many major brands and its patented two-tap technology allows you to easily convert website visitors into SMS subscribers. 
If you do have an email marketing platform you use regularly, however, we still recommend finding an SMS marketing tool that easily integrates with it so you can have audience data all in one place. 
3 Factors for Successful SMS Marketing 
As previously mentioned, successful SMS marketing campaigns come down to three factors. Though it'll often be trial-and-error to find the variation that works best for you, there are some guidelines you can follow. 
Frequency & Timing
Since texting is a very personal type of communication, you can't launch SMS campaigns as often as email or other forms of contact. If you're new to SMS marketing, experiment with 4-5 messages per month (1-2 per week) and gradually increase to 10 until you find your sweet spot.  
Keep in mind that low-frequency campaigns can still be highly successful. A solid example of this is Nomatic, an e-commerce store for high-quality camera bags and luggage. Their initial experimentation with sending out eight monthly text messages was burning out their email list. After switching to a strategy based on sending less frequent but hyper-targeted text messages, they saw a 37x increase in ROI. 
In addition to frequency, you'll want to pay attention to the time of day that you're sending messages. According to VentureBeat, 90% of people read a text within three minutes of receiving it. Therefore, you don't want to target people too late at night or early in the morning. This is also to prevent people from unsubscribing out of annoyance. 
In fact, data from SaleCycle's 2020 E-Commerce Stats report shows that peak purchase time is between 8 p.m. and 9 p.m. SimpleTexting recommends testing out that time slot, but also indicates that a noon send time is also favorable. 
Messaging 
Use your SMS marketing campaigns primarily for publicizing exclusive deals or offers. When you do so, make the messaging clear and concise.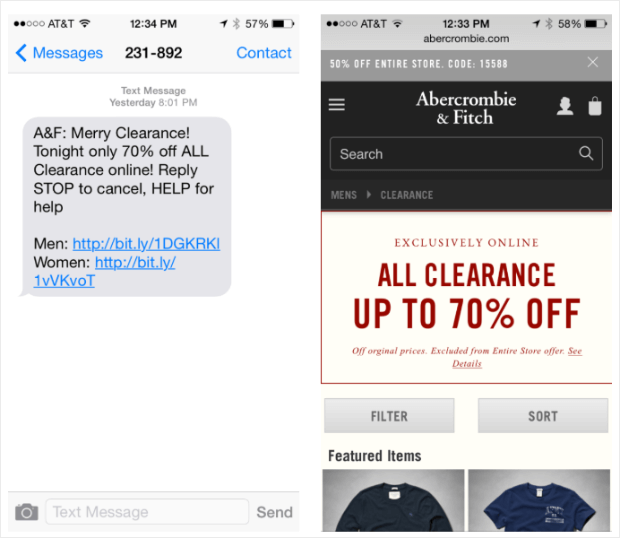 Source: OptinMonster
The anatomy of an effective SMS sales campaign is as follows: 
Short and sweet is better.

Keep it under 160 characters.

Make details clear.

The discount code should be featured in all caps and the message should conclude with the sale-end date.

Give easy access.

Link your website with a bitly link so people can click to shop as soon as they receive your text. 
Some other useful functions for SMS campaigns, outside of promotions, include: 
Saying "thank you."

Whether it be for opt-ins, purchases, or even just customer loyalty.

Contests/giveaways.

You can use these as an incentive to get people to opt-in for SMS communications.

Customer feedback.

Send a text message after a customer's order is delivered to gauge overall satisfaction.

New product announcements.

Include a link to a major new product you think customers will be excited about. 


More best practices
We already talked a little bit about converting your existing email audience into an SMS audience, but you still need to get them to opt into text messaging. The best way to do this is to create a drip campaign with the opt-in messaging in the very first message (i.e. text "YES" to receive weekly offers.) 
The Customer Checkout is the best time to get them opted into SMS and email communications. It helps to provide an incentive in the introductory text message, such as a discount offer or entry into a giveaway, in order to secure their opt-in. 
Once your customers are opted in, try to obtain some preferences. Make the second step in your drip campaign a way to obtain one-word answers to questions about their tastes.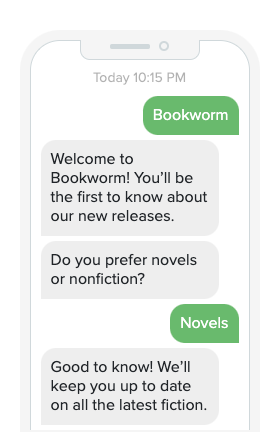 Source: SimpleTexting
For example, if you're an online bookstore, you might be inspired by the example above to create an SMS campaign that obtains customers' favorite book genre. You can then use this data to create segments based on their responses — i.e. contacts whose favorite books are mystery/romance/fiction. 
This way, you can personalize SMS messaging to these specific segments and make sure they only receive offers for things that interest them, thus reducing opt-out rate. 
Most companies use website pop-ups with an incentive to opt-in for SMS communications. It can be set up in a way that the user's smartphone automatically populates an opt-in text message with the click of a button — as can be seen in this Urban Outfitters example.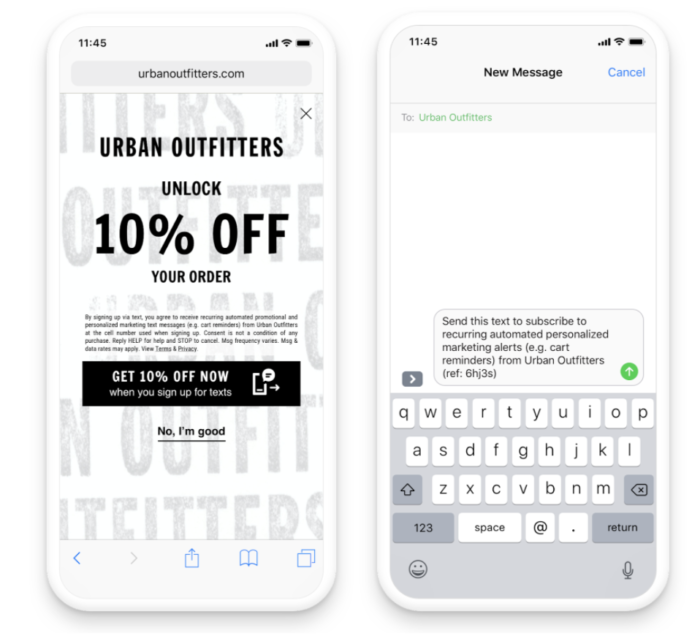 Source: Neil Patel
You can target customers through social media as well. Attentive Mobile's two-tap feature lets people easily opt-in from Instagram Stories. 
The Case for SMS Marketing 
If you're still on the fence, it might help to know that SMS marketing is quickly outweighing other mediums, especially for the Millennial market. Research from Twilio shows that it has an open rate of 82% and click-through rate (CTR) of 36%. 
Meanwhile, email marketing has an average open rate of only 24% and pay-per-click ads have an average CTR of 2%. 
This isn't to say you should cancel all other digital marketing efforts to make room for SMS, but it does mean you should investigate shifting budget to this new medium — especially if you're a small e-commerce company with a younger demographic that is not seeing success with other formats.