Link building has been a point of contention among the SEO community for more than a decade now. Best practices in regards to this aspect of SEO seemingly change every year, leading marketers to constantly evolve their approach to acquiring relevant, quality links. 
In recent years, we've even been bombarded with headlines about the relevance of link building itself. We see titles like: "Does Link Building Still Matter in 20XX?", "Has Google Dealt the Killing Blow to Link Building?", "Is Link Building Dead?"
Okay, even we're guilty of that last one. 
Let us sum up the answer to those questions in a nutshell: Link building is alive and well, and if it's not part of your SEO strategy, you're doing yourself a disservice. Link building is, in a way, the strongest weapon that sites have against putting themselves at the mercy of Google's algorithm. It's also the weapon that carries the most potential for self-inflicted wounds. 
But there's no reward without some risk, eh? 
And, if you've ever dealt with a manual penalty from Google, you know it's not fun — unless you enjoy groveling to the search engine overlords. 
Fortunately, with the right strategy in place — and the right knowledge of what constitutes a quality link — you can lower your risk significantly and ensure you only reap the rewards. 
So, what is link building…and why must we E.A.T it?
If you're an SEO novice, the phrase "link building" might be totally new to you. The primary function of link building is to boost your website's E-A-T factor. This stands for Expertise, Authority, and Trustworthiness. Though not a direct ranking signal in and of itself, it is important for determining overall website quality and credibility, and one of the main ways to achieve E-A-T for your website is through link building.
When another website links to your website, it passes on what is called link equity, or more colloquially, "link juice." Doesn't sound very thirst-quenching, we know. 
Simply put, the more websites that link to your site, the more authority your site has. Authority is perhaps one of the most crucial components of the aforementioned E-A-T factor in SEO. 
What is authority? 
Authority is characterized as off-site SEO. It's one of the core tenets of an effective SEO strategy and one of the ways that Google determines whether or not to show your site in SERPs.
In other words, Google is carefully assessing your website's credibility. Why the heck should anyone trust you? Well, because all these people who link to you said so! 
Source: A Better Lemonade Stand
Getting other websites to link to you improves your overall digital footprint while also providing a potential for referral traffic. This is why it's doubly important to build links from websites that are relevant to your own. Don't seek out competitors, but find "shoulder industries" — related industries that complement your product or service. 
Why does link building matter for e-commerce? 
You might be saying to yourself: "But I sell stuff! I'm not a content creator!" If you're selling a product, it's all the more important to establish yourself as an expert in your industry. People need to trust in what they're buying and the internet is saturated with similar products from different brands. 
Simply put, a targeted link building campaign for your e-commerce store could be what sets you apart from the competition — or at least what gets you ranking above them for your relevant keywords. 
It also encourages you to create more informative, linkable content on your website. This in turn shows that the product you're offering is made by people who understand the problem their customer is seeking a solution to. 
Good vs. Bad Links
Now that we've got you riled up, you might be tempted to head out and secure any and all links you can find. Don't. Do. This. The quality of links you acquire is essential to your success, and a poorly targeted link building campaign can be worse than having no links at all. 
There are a few link types to avoid: 
Paid links:

There are plenty of publishers who will link to you for a fee, but Google's guidelines expressly forbid paying sites to link to you, and John Mueller has gone on record saying they

don't work

. It's important to note that this does

NOT

mean a site will be penalized for paying to publish sponsored content. However, best practices indicate that links acquired this way should be tagged "nofollow". Sponsored content is still a great way to improve visibility.





Quick note about "nofollow" links: This refers to a special tag publishers add to a link that affects how much authority it passes to your site. Links that are not nofollow are sometimes referred to as "dofollow," but there's actually

no such thing

. Nofollow links still function as normal links for users, but Google will not pass link authority through them. These are typically used in situations where anyone can add a link (social media, comments, forums, etc), but other sites may use them as well. There IS still value to a nofollow link. They're necessary for a natural backlink profile and still can drive traffic.




Link farms:

Some websites exist solely for the purpose of posting links to other sites. Typically, these are sites that will accept any and all guest content, or that will post a link for a fee (which is also a paid link, so doubly bad). These can include spammy directories and blog networks, a series of websites owned by the same publisher that all link between one another.
Source: Wikipedia


Irrelevant links:

In essence, if you sell cosmetics, don't seek out automotive links. This isn't to say that you'll be punished by Google for the occasional "random" link your site might pick up, but a link from a site or a page that isn't really relevant to your industry probably won't do you much good. 
Basically, seeking out "spammy" link opportunities comes down to three factors: publishers that request money for posting, have little to no editorial guidelines, and whose websites feature a variety of unrelated content. 
Finding 'Quality' Links
There are three main ways to go about acquiring relevant, quality links back to your website. As you begin to explore your backlink profile using tools like Moz or SEMrush, consider what kinds of links you'd like to pursue more of. 
Low-hanging fruit
These are links that are easy to acquire and require little effort. If your backlink profile is virtually nonexistent, these are the best types of links to start with to slowly build up authority. One type of "low-hanging fruit" link is online business directories. Seek out ones specific to your industry. 
You can find these through a simple Google search or by using a backlink tool to see where your competitors are listed. Typically, you can tell the difference between a spammy directory site and a solid directory site by how exclusive they are. If they allow a link to anyone willing to pay a nominal fee, it's probably bad. If there's an approval process, it's probably on the up-and-up.
Some of these directories may use "nofollow" links — and that's okay! It's still a great way to put your business in front of people. And, as previously mentioned, "nofollow" links are still an important part of a natural portfolio. At the very least, a "nofollow" directory link will increase your business' visibility and sense of legitimacy when people search for it by name. 
Unlinked mentions are another easy link opportunity to keep an eye out for. Set up a Google alert for your brand and get notifications whenever it's mentioned online. This way, if somebody mentions it without linking it, you can reach out and request they hyperlink it.
Lastly, you can dig up some broken links as well. This will require a bit more work, but still not much. Use a tool like Moz's Link Explorer to see if there are links to your site from other sources that may be broken. Usually this will be a link to a page you've deleted that's now serving a 404 error. Simply reach out the publisher and provide them with a new, active page.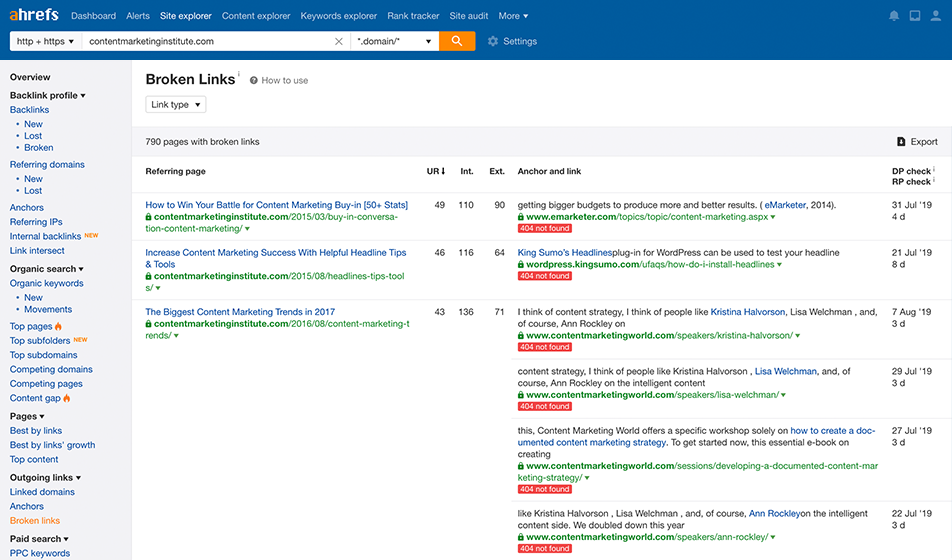 Source: Ahrefs
Counter this by using the link tool to find broken competitor links too. This way you can swoop in, notify a publisher, and suggest replacing that broken link with one to your site instead. 
Guest posting
Now this method probably requires the most work. It requires you finding relevant websites or publications to your industry, getting in touch with their content manager, and requesting to contribute a piece to their website/blog. 
Guest posting falls in and out of favor with the SEO community, but when done right, it can go a long way. The key is to choose your targets wisely, seeking out websites or publications that seem to cater to the same target audience as your business. 
When you do your outreach, don't make the mistake of over-selling or sending an impersonal copy-paste message. Address your contact directly, tell them what about their site stood out to you, and even be ready to approach with some topic ideas on hand. Most websites get hundreds of these outreach emails a month so cutting through the noise is critical. 
Oftentimes, even publishers who seem on the level will request payment for a guest post contribution, so remember Google's rule about this. 
Leveraging on-site content
Remember how we said even e-commerce sites massively benefit from featuring informative content? Whether this means hosting an on-site blog, creating a Knowledge Center, or even having an in-depth FAQ section, it's important for linkability. 
If you're creating quality content about issues in your industry that people actually care about, it's far more likely to generate links and traffic. Think about questions that your customers often ask you, or the problems that drive customers to seek out your product as a solution, and then create content that answers those questions.
Consider sharing some links to your content when you reach out to other websites. In fact, you can build an entire outreach campaign around your own content, pitching it as a resource for other publishers to link to. While you're at it, don't forget to share your content on your social media channels or in your email newsletters. This will attract even more eyeballs.
Making link building work for you
Link building is a trial-and-error game whose results vary from one industry and business to another. If you're an e-commerce site, your best takeaway from this is to avoid being overly promotional in your outreach and content. This will turn link opportunities away. 
Showing that you have something important to share, beyond touting your product, will still benefit your sales when it comes down to boosting your overall reliability. 
As you begin to experiment by checking out your existing backlink profile, it's important not to freak out over every spammy link you notice. Google's disavow tool can be tempting, but damaging. Even if you think you have links that need to be removed, speak with an SEO expert before disavowing them. Think of using the disavow tool as attempting to fix the wiring in your house: don't try it unless you really know what you're doing, and even then it's probably still best to call a pro.