Those pesky Google algorithm updates really have a tendency to blindside us. It can feel like a game of Russian Roulette when it comes to finding out whether or not a new update will tank your rankings — and often for seemingly no reason at all. However, there's always a reason. That also means there's a way to protect your website against the potential negative outcome of a Google algorithm update. 
Now, it should go without saying that the best way to shield yourself against algorithm updates isn't to defend yourself in the face of one, but to have a well-functioning website all the time. Quality content, relevant links, and overall website usability are your best defenders.
In other words, if your website is solid, you shouldn't be hit too hard by any sort of Google update. If your website constantly takes a hit after an update, that's a symptom of a much bigger problem. 
Understanding Google updates
Google makes a number of algorithm updates each year, but it helps to know that there are two main kinds: 
Core Updates: Or occasionally referred to as "Broad Core Algorithm Updates." These are the updates that only occur a 2-3 times per year. They're usually announced publicly and contain more impactful changes to the ranking algorithm. They send ripples across multiple industries and tend to impact a large number of websites. 


Regular Updates: These are the ones that occur almost monthly (or possibly even happen weekly, for all we know). They're smaller updates that tend to go unannounced and rarely — if ever — have their content disclosed. Usually, these kinds of updates are found out by SEOs who talk to one another about impacts they might have noticed within a specific industry or set of industries. 
Although we'll keep coming back to the point about a sound website being your best protection against any kind of algorithm updates, we recognize some people need more specific criteria than that, so here's what we can tell you.
Improve your site speed
The first thing you should do if there's an algorithm update on the horizon is check your overall site speed and load times. Do this by reviewing your Core Web Vitals. If you're not familiar with Core Web Vitals yet, you can access them using the PageSpeed Insights tool. They're actually part of the Page Experience update slated for mid-June. 
When you run your URL through the PageSpeed Insights tool,  pay close attention to the suggestions provided underneath the Core Web Vital metrics. These are the measures to take before the next update drops.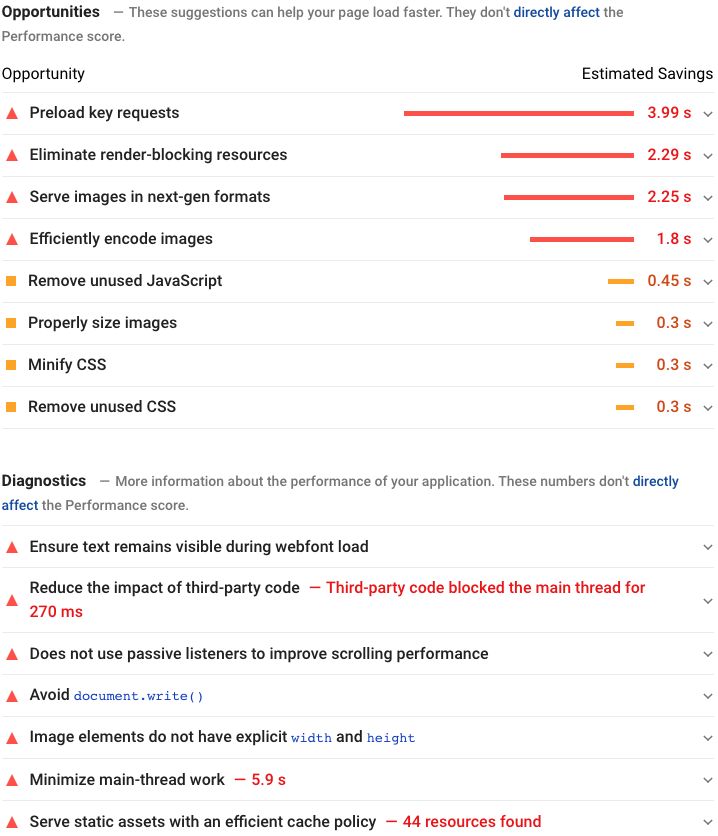 E-A-T it up
"But, I'm not hungry!"
Well, too bad! Because E-A-T-ing is the main source of your website's nutrition. It stands for Expertise, Authority, and Trustworthiness.
Basically… content. 
If your website has been existing in a vacuum with zero reliable backlinks, that spammy link profile is going to catch up with you come update time. It's time to engage in some link building. You can hire an SEO agency to do this, or you can kick off the project yourself. 
Work on reaching out to publishers and blogs you trust, which are related to your industry. Offer up relevant content with the request of a do-follow link back to your website in exchange. Quality backlinks help with your website's ranking and knowledgable content establishes you as an expert within your industry. 

This applies for onsite content, as well. Having a blog or Resources page where you post well thought-out, industry-related insights will go a long way toward your website's trust factor. 
In a 2019 blog post from Google about core updates, E-A-T is listed as a major factor. Google relies on search quality raters to confirm algorithm changes are doing well, and the main thing they look at is content. 
Here is a screenshot direct from the Search Quality Evaluator guidelines:
This means that, not only should the content itself be of value, but it should be written by someone who is considered an expert on the subject. For example, if you run a website that sells vitamins, finding a qualified nutritionist to contribute some content will certainly benefit its overall authority. 

Perform semi-regular audits
It's a generally good idea to perform a full technical audit of your website every few months. This would involve checking your Google Search Console for glaring errors, as well as running a site crawl to catch any anomalies. There are plenty of SEO tools that'll help you get this job done right, and some of them are even free!
When you conduct a technical audit of your website, some of the things to look for include: 
Excessive 404s

Broken links

Redirect loops

Unoptimized meta elements (too long, too short, or just non-existent)

Indexation issues (anything that affects your site's accessibility, check your robots.txt file and XML sitemap)
If you find some of these errors but aren't sure how to go about fixing them, that's where consulting with an expert might come in handy. There are some issues, like fixing meta elements, that are more self-explanatory. You may encounter others that require additional support. 
Final considerations
Don't misunderstand this post. These aren't changes to make as soon as you hear an update is going to drop, because you rarely get that much notice and Google is unlikely to catch changes that recent in the update. It can take weeks — oftentimes, even months — for changes you make to get indexed by Google, so last minute fixes rarely work.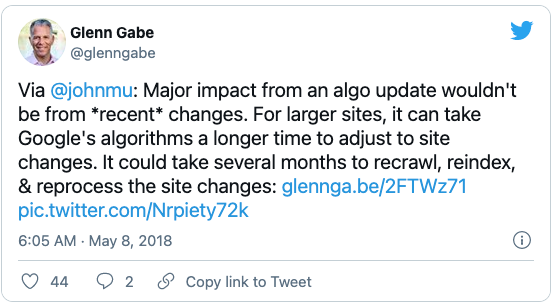 As you launch into priming your website for algorithm updates, remember that Google is now indexing the mobile version of your site first with the final rollout of the mobile-first index. So, as you go through your checklist, don't just apply this criteria to your desktop site.