Retail experts state that the 2021 holiday shopping season is starting earlier than usual. Many retailers like Amazon and Target are even launching early Black Friday deals. And because of current supply chain limitations, everybody's trying to do their shopping before inventory runs out.
Surveys indicate that 51% of consumers will start their holiday shopping before Thanksgiving this year. Furthermore, it'll be a massive year for online retailers, with e-commerce holiday sales expected to see an 11-15% year-over-year bump compared to 2020. This means that you need to start your holiday messaging yesterday, and you need to hit every platform.
That involves a content strategy complete with consistent messaging across all channels like email marketing, social media, and your website. Purchase intent goes up by 90% when consumers view consistent messaging across multiple channels, so nailing that down is crucial to your holiday sales success. There are a few ways to match up your messaging across channels, so customers can recognize you everywhere they go.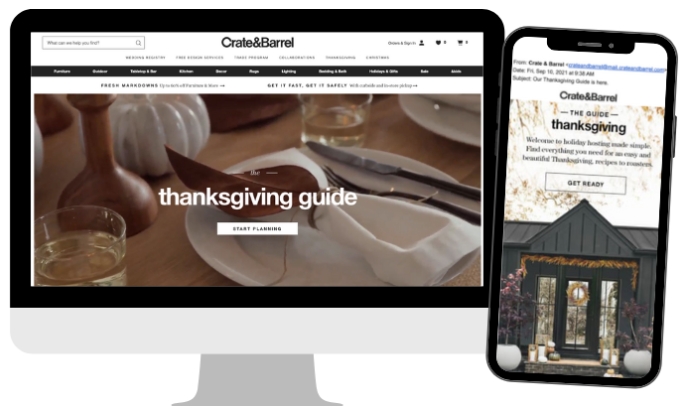 Make sales front-and-center

Sales events are pivotal to the season, and if you're hosting any major ones, you want to push them across all channels. Some ways to align your promotional messaging include:
Making sure the sales event has the same name wherever it's promoted.
Always making the discount code clear.
Featuring a prominent banner on your homepage for the sales event.
Even creating a landing page for the specific products that are featured, and pointing all your ads, email/SMS links, and social media links to that page.
Featuring a countdown timer across all channels until your holiday sales event launches. Include it on your homepage, at the top of all your email blasts, and wherever else you can embed it.
It's one thing to offer discounts and promotion codes for Black Friday and Cyber Monday sales, but many advertisers find it labor intensive to get these in front of customers easily, and therefore they can be tough for customers to find. Fortunately, there are e-commerce tools like CartLOVE that can help improve usability for customers and convertibility for advertisers. 
This is for two reasons:
Promotions offered in outbound messaging and ads are not displayed across the website or easily found once the customers land there.

CartLOVE offers ways for customers to easily find all promotions you might be offering. Sync up your sales end-date with a promotion countdown timer in the CartLOVE promotion settings. Global (all-product) promotions like Free Shipping can be mentioned in CartLOVE welcome messaging as well.


Certain products that are advertised as being on sale might be linked to from ads and messaging, but larger proportions of customers don't come to the site directly through those links that point directly to sales items.

As a result, they may land on a non-sales product, so it's good to make people aware of these items by showing them what products are on sale when they get there (via popup or CartLOVE). CartLOVE can display cross-sell products as "Products Currently On Sale…" and they can be triggered by particular sets of product interest or groups that customers are viewing at the time.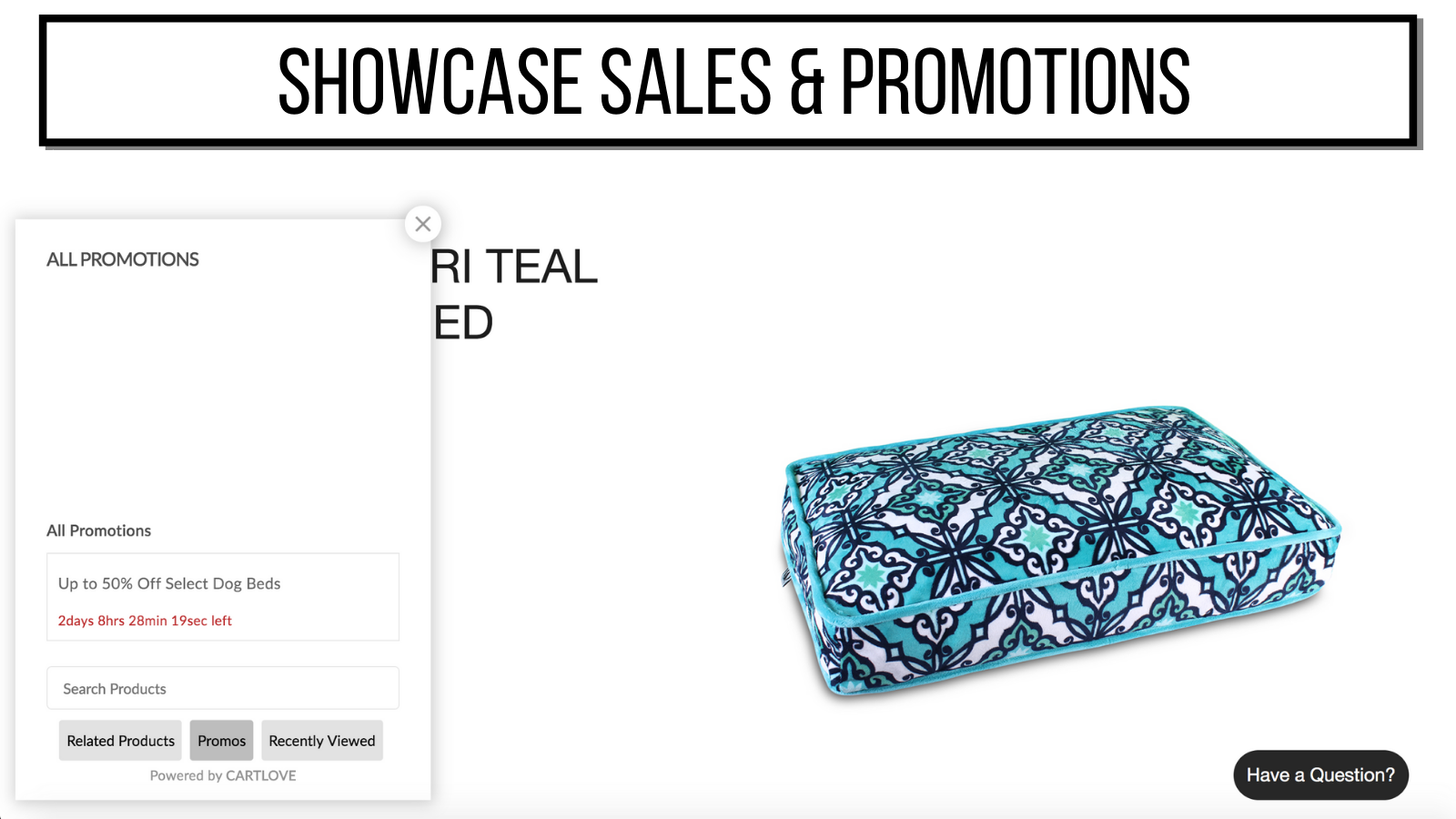 Also, if you do have sales-specific category pages and landing pages, then CartLOVE can show these in the dynamic search results. So, customers looking to do a site search for "black friday deals" would see prompts with the category page dedicated to said sales event at the top of the list. This helps e-commerce customers find the Deals page easily when it's not necessarily built into the menu structure, or if the customer just misses it.

Maintain stock & inventory transparency

As mentioned, the main reason people are starting their holiday shopping early is because of the inventory shortages expected as we inch even closer to the holidays. Out-of-stock messages online are expected to be up 172% this holiday season compared to 2020, and up 360% compared to 2019.
Staying transparent about what is and isn't in-stock across all channels is important as we approach gifting season. Roll out email and social media announcements when popular products have been restocked with links to those items on the website. Rolling out the announcement just on social media, for example, could make people who subscribed to emails specifically for updates feel snubbed.
If a product is out-of-stock for the season with no expected restock date, remove visuals containing that item from social media and email. Especially on social media, people are expecting to be able to purchase the products featured in an ad or post, and it could be viewed as misleading if they're not actually available when they land on the website. If a really popular item is suddenly out-of-stock, retarget customers on the waitlist for that product with a campaign about similar/related items they might like.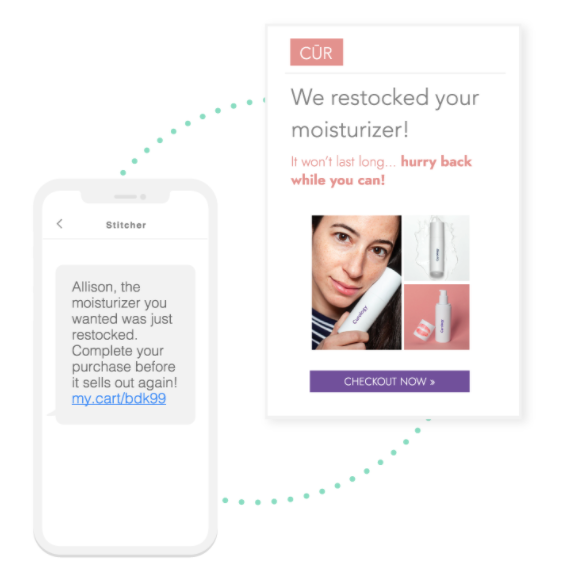 Source: CartStack
Optimize properly

Cross-channel marketing means you need to be prepared for cross-device delivery of your content. Make sure all of your landing pages are using mobile-friendly templates. Also feature less verbiage and larger calls-to-action in social media posts and email blasts so that mobile devices aren't overwhelmed with text and elements are easily clickable.
This is important because while people might be viewing your social media posts and emails more via their mobile devices, desktop conversion rates are still higher than mobile conversion rates for eCommerce websites.
Onsite: desktop conversion rate of 4.81% vs 2.25% for mobile
Email: 81% on mobile devices
Social media: 83% on mobile devices
And then SMS is obvious…

Conclusion
There is one single most important tip to take away, and it might seem obvious, but consistent branding is a big part of consistent messaging. In the rush to bump up their frequency and get the word out, many small retailers forget the importance of maintaining a persona. In order for your brand to be easily recognized across channels, you need to use similar imagery, wording, and colors in all of the content you put out.
And if the majority of the tips in this article seem out of your wheelhouse, that's where a tool like CartLOVE can come in handy. It honestly does the work for you, you just have to input your product feed, promotions, and other parameters, and then you can send it on its way.