If you're noticing changes to your Google Ads account that neither you nor your PPC agency have made, it may be Google's new Auto-Apply beta program. Though announced last year, it's just now rolling out to many advertisers who don't recall opting in — and it's wreaking havoc on their accounts.
This new feature aims to use AI-driven data to make automatic "improvements" to your campaigns, but for many advertisers, it's just over-spending budget. In one advertiser's case, Google had opted him into a "Maximize impact" setting for this auto-apply feature. He found that Google had added the keyword "+taxes com" in a campaign for "tax preparation", which caused his keywords to overspend by 50% of his target budget.
The best way to check if your account has been opted in is to look through change history in Google Ads and see if there are changes you don't recognize. The user making the changes will be listed as "recommendations auto apply-beta" instead of an email address. 
What can Auto-Apply do? 
The new Auto-Apply beta comes with about 35 AI-based suggestions which advertisers can customize. The general guideline is: the less complex an account is, the fewer of these settings should be checked off. However, we'd honestly recommend having as few of these settings checked off as possible regardless of account size.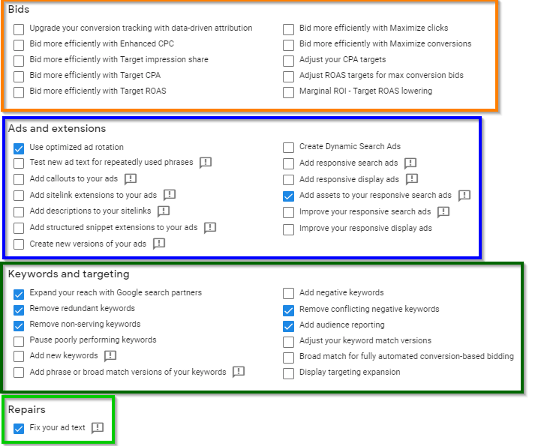 Source: Search Engine Land
The two settings to be most careful with on this list, and most likely avoid entirely, are "Add new keywords" and "Adjust your keyword match versions." It's best to control these manually for now. 

The future of Auto-Apply 
Having someone keep a close eye on your ad account right now is more important than ever, since there have been numerous accounts of this feature launching without opt-in. That's why having a PPC manager is so important. 
Basically, for now, avoid this feature entirely. Google already has a section for Recommendations, which is how this process should work. If advertisers want to consider suggestions from Google, they should check the Recommendations section and not opt-in to auto apply.