We know about all the individual ranking signals that play into a website's success in the search results: load time, backlinks, mobile-responsiveness, and so on. However, Google is finally announcing an update that takes the bigger picture into account. 
The upcoming Google Page Experience update, set to launch in June, introduces a new ranking algorithm that judges pages based on the perceived overall user experience. That includes the aforementioned ranking signals and more. 
Google released an exhaustive developer document on the criteria for a favorable page experience, most of which are not novel recommendations in the world of SEO: mobile-friendliness, overall website security, serving over HTTPs.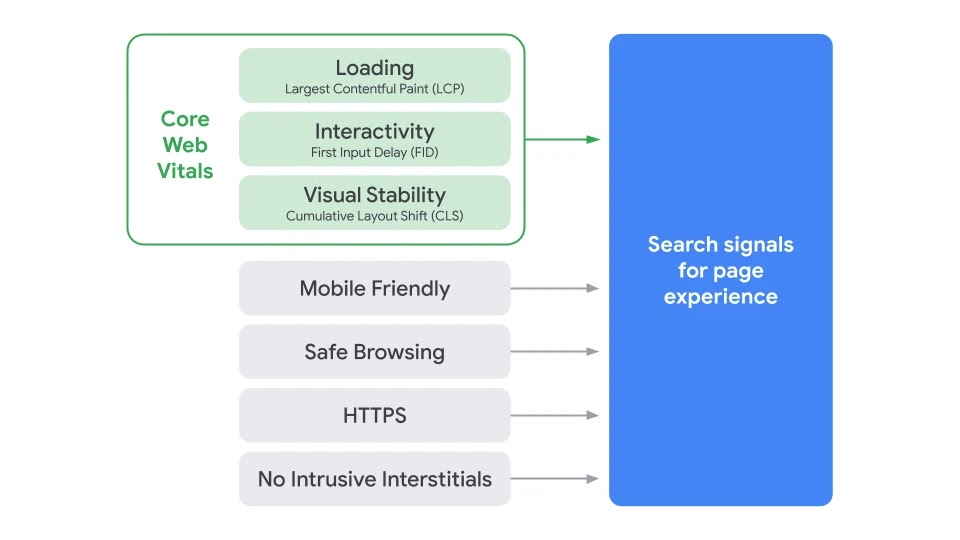 Source: Google Developers
Rather than diving into these already well-known concepts, we'll cover some of the newer facets of this Page Experience update — and what to know before you start optimizing. 
Core Web Vitals are… vital
One of 2021's premiere ranking signals, Core Web Vitals help assess overall page load speed and the elements that might be slowing it down. In short, these are the metrics that Google considers the "core" of page performance. 
They consist of: 
Largest Contentful Paint (LCP):

Measures loading performance

First Input Delay (FID):

Measures length of time until page interactivity

Cumulative Layout Shift (CLS):

Measures visual stability

To check the performance of your pages and see which of the above factors need the most improvement, plug your website URL into Google's PageSpeed Insights. It will even populate with specific recommendations you can send on to your developer to optimize page load times. 
There won't be an immediate impact
Google's John Mueller has already clarified that Page Experience will not be a real-time update, but rather a slow accumulation of data over time. There is even a 28-day delay in gathering Core Web Vital data, so an immediate change won't be possible. In fact, it will probably have several follow-up updates. 
The biggest reason there won't be a massive immediate impact is that many of the elements that make up the Page Experience update are already ranking signals that Google looks at. Load time and page performance have been ranking factors in the past, just on a less granular level.
Furthermore, site owners should have been paying attention to their performance already. This new update — and Core Web Vitals in general — just provide a cleaner roadmap.
Content is still #1
Simply having a high PageSpeed Insights performance score will not be enough to veil weak or thin content. In a recent blog post from Google Developers, it's stated: 
While all of the components of page experience are important, we will prioritize pages with the best information overall, even if some aspects of page experience are subpar. A good page experience doesn't override having great, relevant content. However, in cases where there are multiple pages that have similar content, page experience becomes much more important for visibility in Search.

– Google Developers
In this sense, Google is urging us to look at performance scores more as a tiebreaker than determining factor. Expertise, authority, and trustworthiness (E-A-T) are the key players when it comes to Page Quality in SEO, all of which are achieved with relevant and credible content. 
Non-AMP pages can enter Top Stories
With this update, Accelerated Mobile Pages (AMPs) will no longer be the only pages eligible for Google's Top Stories carousel in the search results. The same Page Experience metrics applied to its ranking criteria for standard search results will apply to the Top Stories feature as well.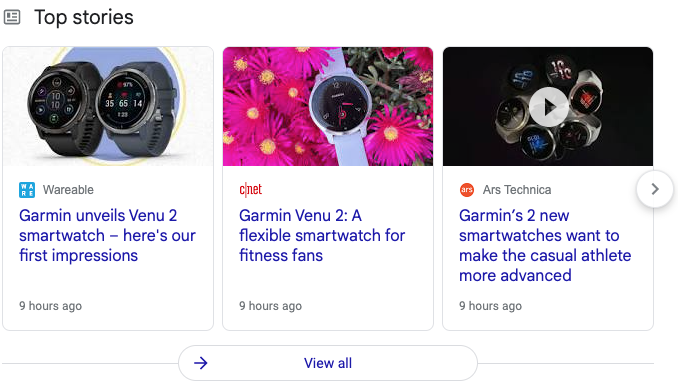 According to Google: "AMP is one of the easiest and cost-effective ways for publishers looking to achieve great page experience outcomes. Based on the analysis that the AMP team has done, the majority of the AMP pages achieve great page experiences."
It will launch this summer
There's no set date this update is expected to drop. In fact, it was just recently pushed back from May to June. A gradual rollout is now supposed to kick off in mid-June, with a full rollout by August. 
Keep in mind, this comes a year after Google initially announced the update, which was supposed to launch in September 2020. 
Rather than waiting another month to see where things stand, we recommend getting the ball rolling on Page Experience within your own website. If you haven't addressed one or all of the Page Experience signals (Core Web Vitals, Mobile-Friendly, Safe Browsing, HTTPS, No Intrusive Interstitials), then it may be time to crack down on these factors. 
Many of them are already playing a role in your website's ranking, so don't wait until the Page Experience update happens to make improvements.